Deligreece
Fleur de Sel - natural salt from Deligreece
Regular price
Sale price
9,90 €
Unit price
61,88 €
per
kg
Sale
Sold out
Fleur de Sel from Deligreece stands for natural salt obtained on the picturesque coasts of the Aegean. Skimmed in the traditional way by hand and without artificial additives, flavors or colors, the sea salt from Crete represents a very special, authentic taste experience. Unfortunately, natural salt is hardly available in the supermarket these days, but at madevegan you can do it yourself Order from home and have it delivered directly to your door – completely CO2-neutral, of course.
Fleur de Sel – natural sea salt from Crete
The ancient Greeks already appreciated the natural sea salt of the Aegean. It is not for nothing that "white gold" was often equated with wealth and prosperity.
Deligreece sea salt is obtained in a very traditional and natural way on the coasts of Crete . The surf carries the seawater to the coast, where it collects in small depressions and pools. Due to the climate and sun alone, the water evaporates and leaves the sea salt contained in it as a snow-white, shimmering film. As in ancient times, local fishermen skim it by hand and dry it on the roofs of their houses until the remaining water has evaporated and delicate, bright white crystals form. What remains is a special kind of fine, completely natural table salt that gives every meal a Mediterranean flair.
Our tip: Enjoy the Fleur de Sel sea salt from Deligreece together with a little olive oil on a warm piece of bread and conjure up a Mediterranean lifestyle at the dining table.
Completely natural – Fleur de Sel Natur
Experience the natural taste of the Aegean Sea with pure natural salt , hand-scooped on the coast of Crete. Completely authentic without any additional spices or flavors, the natural sea salt from Deligreece with its intense taste is ideal for seasoning all kinds of dishes.
Natural salts are now an absolute rarity in supermarkets. Unlike common table salt, unrefined and natural salt contains important minerals and trace elements such as magnesium, which have been proven to be good for the body and well-being . At the same time, residues of clays etc. prevent the body from absorbing too much of the salt - a win-win situation and the perfect balance between good taste and a healthy lifestyle.
The white gold from Greece is and remains a true treasure of nature!
More information

| | |
| --- | --- |
| Hinweis | Kühl, luftdicht und trocken aufbewahren. |
| Lebensmittelunternehmen | Deligreece GmbH, Ostring 6b, D-65205 Wiesbaden |
| Inhalt | 160 Gramm |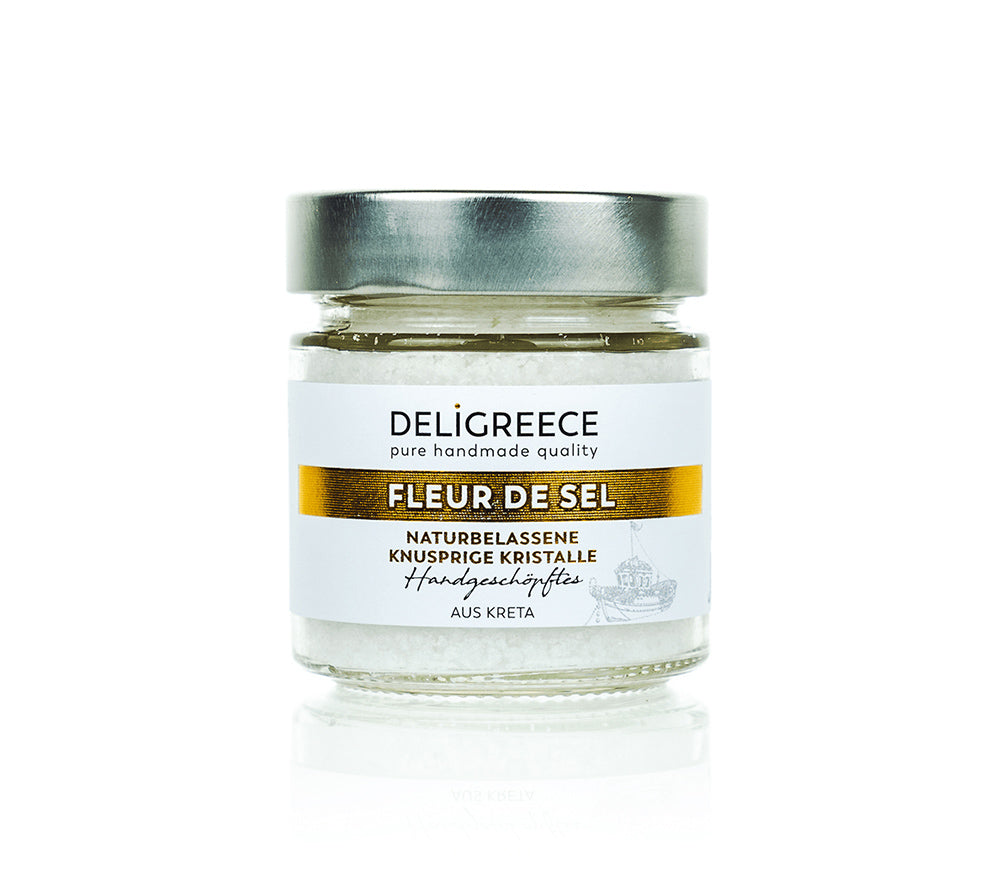 Your opinion is important to us
Your feedback not only helps us to offer you exactly what you really want and to recognize what new and exciting things you expect from us in the future. You also help other vegans quickly and easily find out which products might also be interesting for them.

Note: Companies are obliged to provide information about whether and how they ensure that reviews are genuine. To ensure this, we need your order number when submitting a review (you will find this in the confirmation email). Before your review is published, we check whether the product to be reviewed was also part of your order. This means that your review must first be verified and activated before it becomes visible to other customers.
Subscribe to our newsletter now and get a €5.00 voucher 💌
Sign up now for our madevegan newsletter ! As a small thank you , we will give you a voucher* worth €5.00 , which you can redeem directly with your next order.
To the newsletter ✉
Answer questions
How much are the shipping costs?

The shipping costs (DE) at madevegan are €4.75. From an order value of €39.00 we will ship your order free of charge within Germany.
How long does the delivery take?

The delivery time within Germany is 1-3 days. We do our best to ship your order as quickly as possible.
Do I need a customer account to be able to order?

In our vegan online shop you can also place your order without a customer account - as a guest. With a customer account you have many advantages and save a lot of time on your next order.
Are all products in the shop really 100% vegan?

Yes! All products you find at madevegan are 100% vegan! We check all products very carefully and with a lot of love. In addition, only vegan products that have convinced us make it into our shop!
My question is not there - what can I do?

Our friendly customer care team will be happy to help you and answer your questions. Simply send us an email with your question or concern using our contact form .