Horseshoe Brand
XXXtra Hot Sauce from Horseshoe Brand
Regular price
Sale price
12,50 €
Unit price
52,74 €
per
l
Sale
Sold out
Now it's getting xxxtrem - with the extremely hot chili sauce from Horseshoe Brand . Even among the hot sauces from Horseshoe Brand, the vegan barbecue sauce made from purely plant-based ingredients such as habaneros and ghost pepper is the undisputed number one when it comes to spiciness.
The vegan barbecue sauce with that certain XXXtra
If you've ever tried the incredibly hot Ghost Peppers (also called Bhut Jolokia) and Habanero Chilies and have a taste for them, then there's no way around Horseshoe Brand's XXXtra Hot Sauce . Further delicious aromas of garlic , onions and brown sugar ensure a diverse taste experience beyond the pure spiciness and give the vegan barbecue sauce an unexpectedly deep flavor profile .
Habanero & Ghost Pepper – Ingredients for the hottest vegan chili sauce
Habanero and ghost pepper are an absolute must for connoisseurs of particularly hot sauces and are among the hottest chili peppers ever. As the flavor carrier of Horseshoe Brand's extremely hot chili sauce, they bring a very special fire to your dining table. Habanero chilies reach a level of spiciness of up to 500,000 Scoville and the sweaty ghost peppers even achieve record levels of over 1 million Scoville . For comparison: commercially available chilies, like the ones you've probably seen in the supermarket, start at 100 Scoville and only in rare cases reach a value of 100,000. A fiery, spicy experience is guaranteed with the vegan barbecue sauce XXXtra Hot Sauce .
By the way: the extra hot chili sauce is not only hot but also healthy. Chilies stimulate appetite , circulation and blood circulation and can even help with muscle pain and tension. They also have an antibacterial effect.
For additional flavors and so that the extra spiciness doesn't completely take over, the professionals at Horseshoe Brand have added a sweet, aromatic mixture of garlic , onions and a good portion of brown sugar to the sauce. The spicy-sweet aromas underline the spiciness of the habaneros and ghost peppers and at the same time pleasantly soften the extreme burning sensation in the finish.
Horseshoe Brand – XXXtra grade hot sauce
The extra hot XXXtra Hot Sauce is a classic of American barbecue , but is also particularly suitable for delicious marinades and as an extra kick of heat, for example in salad dressings and dressings . Try the sauce with smoky grilled eggplant or sweet potatoes and experience the special XXXtra of the spicy habanero and ghost pepper sauce from Horseshoe Brand for yourself.
Ingredients

Vinegar, Habanero Pepper Mash (Habanero Peppers, Salt), Tomato Paste , Onion Puree (Onions, Acidifier: Citric Acid), Brown Sugar (Sugar, Molasses), Smoked Ghost Pepper Powder, Roasted Garlic, Garlic, Salt
Nutritional values

Nutrition Information (per 100 ml)

| | |
| --- | --- |
| Energy | 357 kJ / 84 kcal |
| Fat | 0 g |
| of which Saturates | 0 g |
| Carbohydrates | 21 g |
| of which Sugars | 18 g |
| Protein | 0 g |
| Salt | 3,6 g |
More information

| | |
| --- | --- |
| Details | Refrigerate after opening -Shake well before using |
| Food Business | American Heritage GmbH & Co. KG, Martini Park, Gebäude C4, Provinostr. 52, D 86153 Augsburg |
| Contents | 237 Milliliter |
| Barcode | 853196003054 |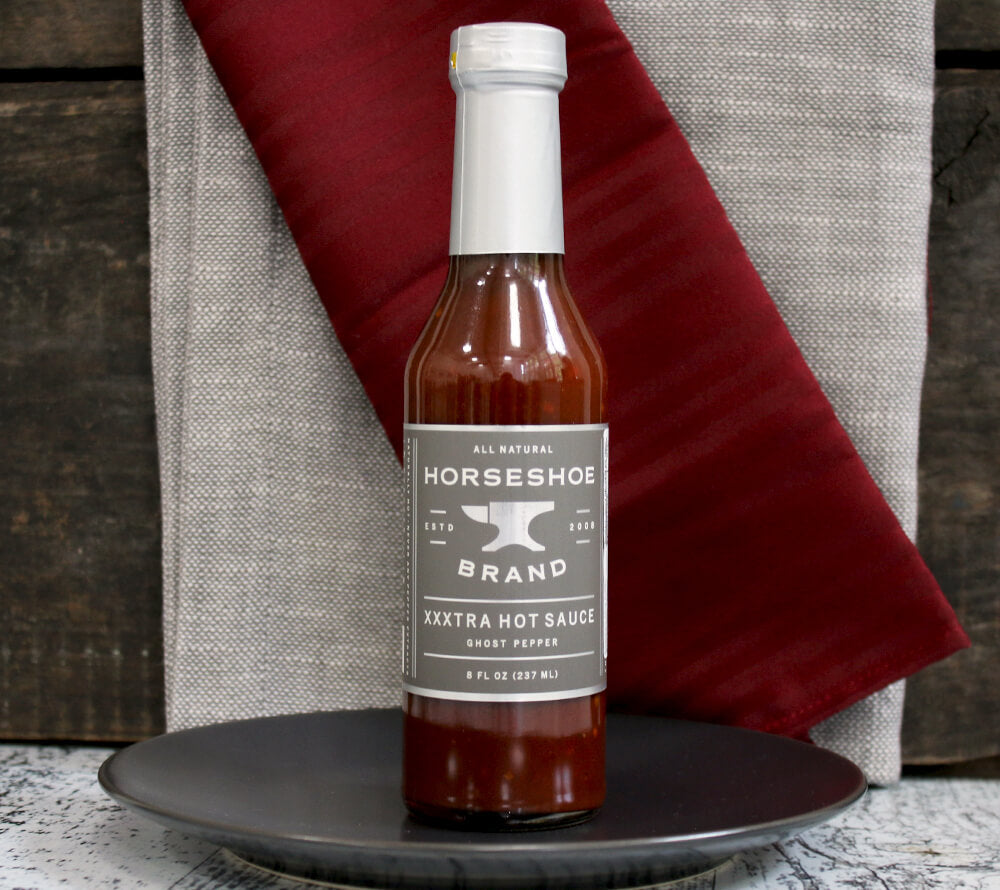 Your opinion is important to us
Your feedback not only helps us to offer you exactly what you really want and to recognize what new and exciting things you expect from us in the future. You also help other vegans quickly and easily find out which products might also be interesting for them.

Note: Companies are obliged to provide information about whether and how they ensure that reviews are genuine. To ensure this, we need your order number when submitting a review (you will find this in the confirmation email). Before your review is published, we check whether the product to be reviewed was also part of your order. This means that your review must first be verified and activated before it becomes visible to other customers.
Subscribe to our newsletter now and get a €5.00 voucher 💌
Sign up now for our madevegan newsletter ! As a small thank you , we will give you a voucher* worth €5.00 , which you can redeem directly with your next order.
To the newsletter ✉
Answer questions
How much are the shipping costs?

The shipping costs (DE) at madevegan are €4.75. From an order value of €39.00 we will ship your order free of charge within Germany.
How long does the delivery take?

The delivery time within Germany is 1-3 days. We do our best to ship your order as quickly as possible.
Do I need a customer account to be able to order?

In our vegan online shop you can also place your order without a customer account - as a guest. With a customer account you have many advantages and save a lot of time on your next order.
Are all products in the shop really 100% vegan?

Yes! All products you find at madevegan are 100% vegan! We check all products very carefully and with a lot of love. In addition, only vegan products that have convinced us make it into our shop!
My question is not there - what can I do?

Our friendly customer care team will be happy to help you and answer your questions. Simply send us an email with your question or concern using our contact form .