Joe & Seph's
Vegan Popcorn - Coconut & Cacao from Joe & Seph's
Regular price
Sale price
6,50 €
Unit price
81,25 €
per
kg
Sale
Sold out
Joe & Seph's heavenly vegan popcorn Coconut & Cacao won the Great Taste Award 2020 . The exotic coconut crunch gives the vegan popcorn the necessary bite. The popcorn is coated in wonderful coconut caramel and a pinch of aromatic cocoa . The Coconut & Cacao popcorn is 100% vegan and gluten-free .

Vegan Coconut & Cacao Popcorn - unique taste
Most industrially produced popcorn has butter or cream on the list of ingredients. However, the vegan Popcorn Coconut & Cacao from Joe & Seph's is made from purely plant-based ingredients and is therefore completely vegan. So you can enjoy the irresistibly delicious popcorn without feeling guilty . We love the vegan popcorn, which is lovingly handcrafted , especially for a relaxed movie night with our loved ones or as a small snack in between. But it is also a particularly great delicatessen gift idea for vegans.
Is popcorn suitable for vegans?
Popcorn is made from corn and is therefore vegan in most cases . In order for the corn to become crispy popcorn , it must be heated in hot fat. Vegetable oil is usually used for this process. However, there can also be exceptions . There are manufacturers who use butterfat for this. Popcorn made this way is therefore no longer vegan . It is therefore worth taking a look at the packaging or label. If you want to be on the safe side and don't want to miss out on the delicious taste at the same time, then definitely try the vegan Coconut & Cacao popcorn from Joe & Seph's - it's air-popped.
Ingredients

Corn, Sugar, Water, Coconut(13%), Extra Virgin Olive Oil, Gluten Free Oats(3%), Glucose Syrup, Cocoa Powder(2%), Sea Salt, Sunflower Oil, Coconut Extract (Natural Coconut Flavor, Invert Syrup)
Nutritional values

Nutrition Information (per 100 g)

| | |
| --- | --- |
| Energy | 1533 kJ / 366 kcal |
| Fat | 15 g |
| of which Saturates | 8,1 g |
| Carbohydrates | 51 g |
| of which Sugars | 32 g |
| Protein | 4,0 g |
| Salt | 0,85 g |
More information

| | |
| --- | --- |
| Details | Store in a cool, dry, dark place. Once open consume within 5 days. |
| Food Business | American Heritage GmbH & Co. KG, Martini Park, Gebäude C4, Provinostr. 52, D 86153 Augsburg |
| Contents | 80 Gramm |
| Barcode | 711583070983 |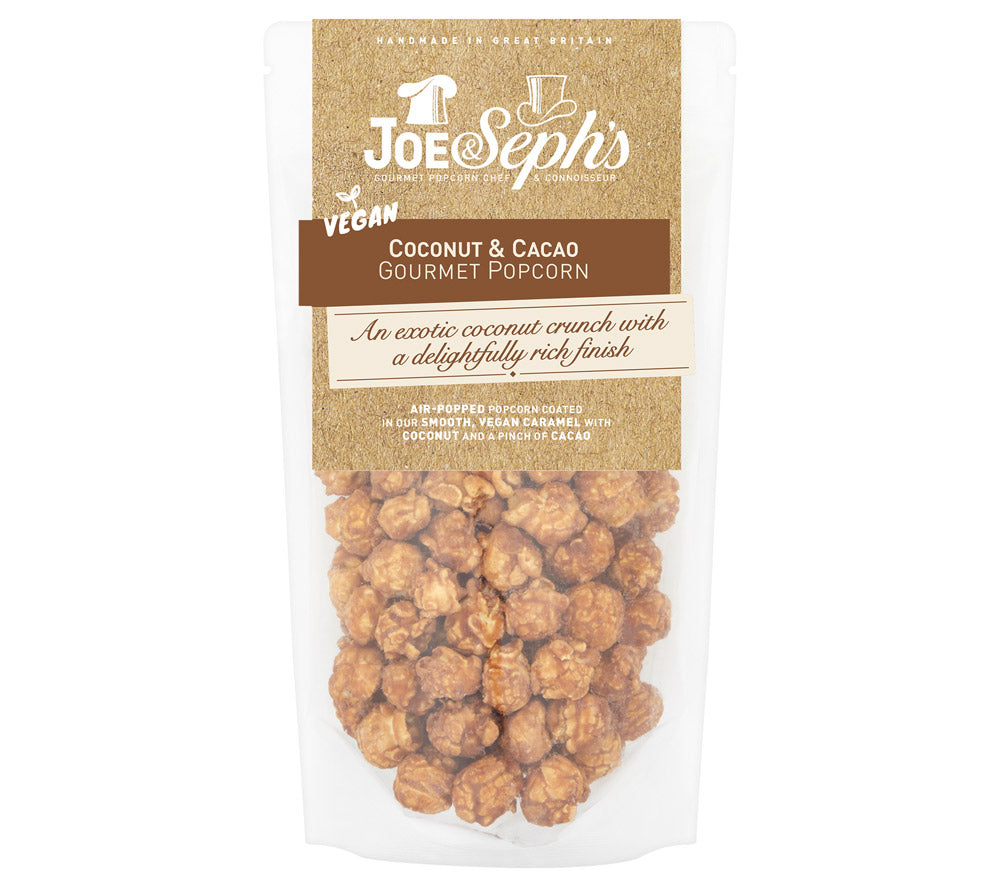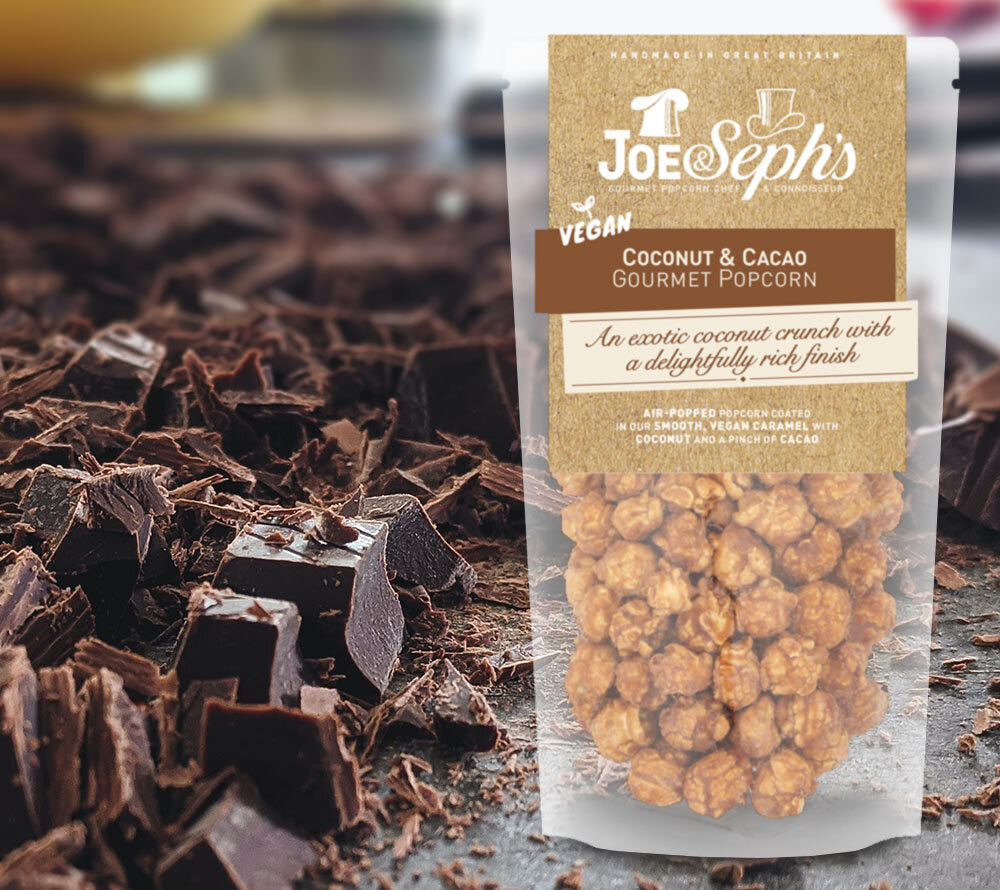 Your opinion is important to us
Your feedback not only helps us to offer you exactly what you really want and to recognize what new and exciting things you expect from us in the future. You also help other vegans quickly and easily find out which products might also be interesting for them.

Note: Companies are obliged to provide information about whether and how they ensure that reviews are genuine. To ensure this, we need your order number when submitting a review (you will find this in the confirmation email). Before your review is published, we check whether the product to be reviewed was also part of your order. This means that your review must first be verified and activated before it becomes visible to other customers.
Subscribe to our newsletter now and get a €5.00 voucher 💌
Sign up now for our madevegan newsletter ! As a small thank you , we will give you a voucher* worth €5.00 , which you can redeem directly with your next order.
To the newsletter ✉
Answer questions
How much are the shipping costs?

The shipping costs (DE) at madevegan are €4.75. From an order value of €39.00 we will ship your order free of charge within Germany.
How long does the delivery take?

The delivery time within Germany is 1-3 days. We do our best to ship your order as quickly as possible.
Do I need a customer account to be able to order?

In our vegan online shop you can also place your order without a customer account - as a guest. With a customer account you have many advantages and save a lot of time on your next order.
Are all products in the shop really 100% vegan?

Yes! All products you find at madevegan are 100% vegan! We check all products very carefully and with a lot of love. In addition, only vegan products that have convinced us make it into our shop!
My question is not there - what can I do?

Our friendly customer care team will be happy to help you and answer your questions. Simply send us an email with your question or concern using our contact form .