Dandies
Vegan mini marshmallows (pumpkin) from Dandies
Regular price
Sale price
4,95 €
Unit price
34,86 €
per
kg
Sale
Sold out
The vegan mini marshmallows are made from plant-based ingredients . We love Dandies mini marshmallows with crunchy treats, hot cocoa, baking, and snacking straight from the bag!
Dandies Mini Marshmallows are made with no artificial flavors or colors , no corn syrup, no gelatin and no gluten . The marshmallows are kosher and made with non-GMO ingredients.
Dandies Vegan Marshmallows without gelatin - what makes them so special?
Unlike classic marshmallows, Dandies are made entirely without the addition of gelatin . Gelatine is an animal product made from the bones and other parts of various animals and is used quite frequently in the candy industry. However, Dandies Marshmallows do not use any form of gelatin in production. In addition, all ingredients are purely plant-based and 100% vegan.
Dandies are among the most popular vegan marshmallows. They are gluten-free, kosher and contain no genetically modified ingredients. Unlike many other marshmallows on the market , Dandies' vegan marshmallows do not get their special sweetness and fluffiness from the addition of corn syrup but only from tapioca, vegan cane sugar and a touch of vanilla. You won't even find artificial colors in Dandies' delicious marshmallows.

Due to the high standards in production, Dandies marshmallows are also free from all common allergens - such as nuts - with the exception of soy protein.
Dandie's vegan vanilla flavored marshmallows are made with just seven natural and completely vegan ingredients .
madevegan loves Dandies marshmallows
The entire madevegan team loves the delicate vanilla taste of the vegan marshmallows! Due to the purely plant-based ingredient list, we can enjoy the Dandies with a clear conscience. The vegan dandies are particularly recommended:
as a topping for a hot cup of cocoa
for baking and decorating cakes etc.
for American S'Mores
roasted on a stick over an open fire
and of course for snacking straight from the bag
Do you have an absolute insider tip on how to enjoy the vegan marshmallows from Dandies? Then please let us and other vegans know in the form of a review. 💚
Would you like to know more about Dandies' vegan marshmallows ? Then take a look at our blog and find out how the Dandies revolutionized the vegan marshmallow world !
Ingredients

Tapioca Syrup, Cane Sugar, Filtered Water, Tapioca Starch, Stabiliser: Carrageenan, Soy Protein, Natural Vanilla Flavor, Natural Pumpkin Flavor, Colour: Annatto
Nutritional values

Nutrition Information (per 100 g)

| | |
| --- | --- |
| Energy | 1457 kJ / 343 kcal |
| Fat | 0 g |
| of which Saturates | 0 g |
| Carbohydrates | 86 g |
| of which Sugars | 61 g |
| Protein | 0 g |
| Salt | 0,18 g |
More information

| | |
| --- | --- |
| Food Business | American Heritage GmbH & Co. KG, Martini Park, Gebäude C4, Provinostr. 52, D 86153 Augsburg |
| Inhalt | 142 Gramm |
| Barcode | 897581000280 |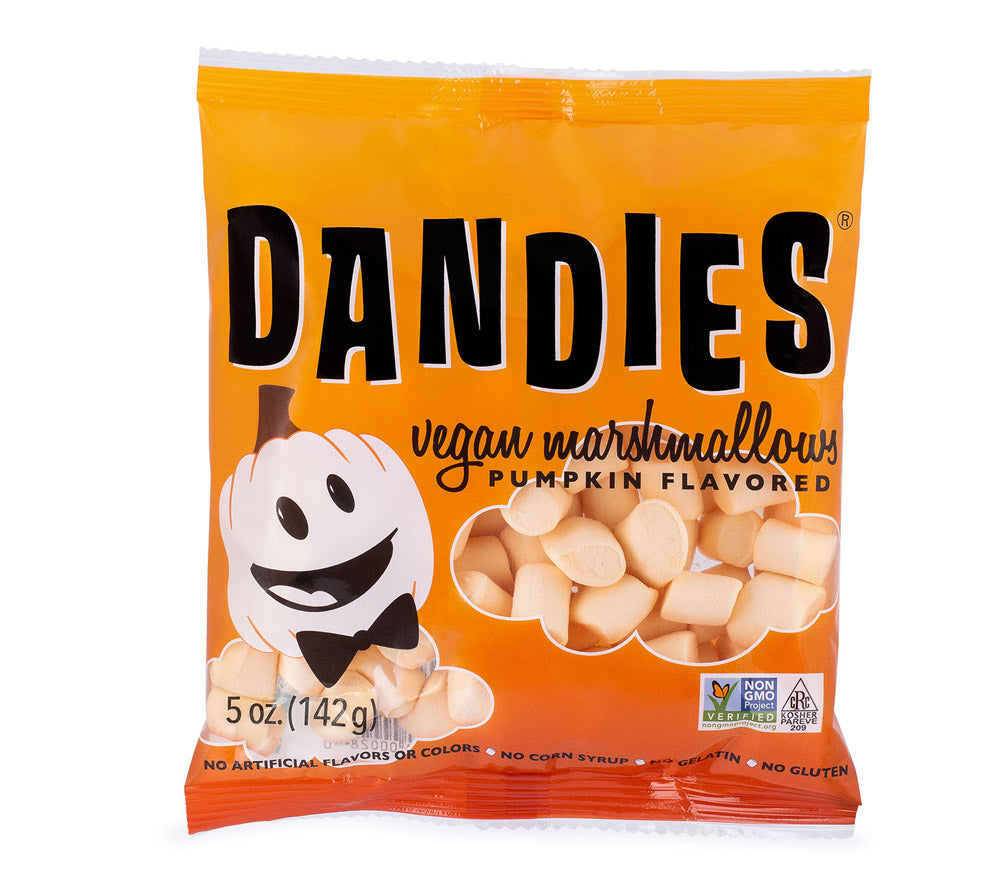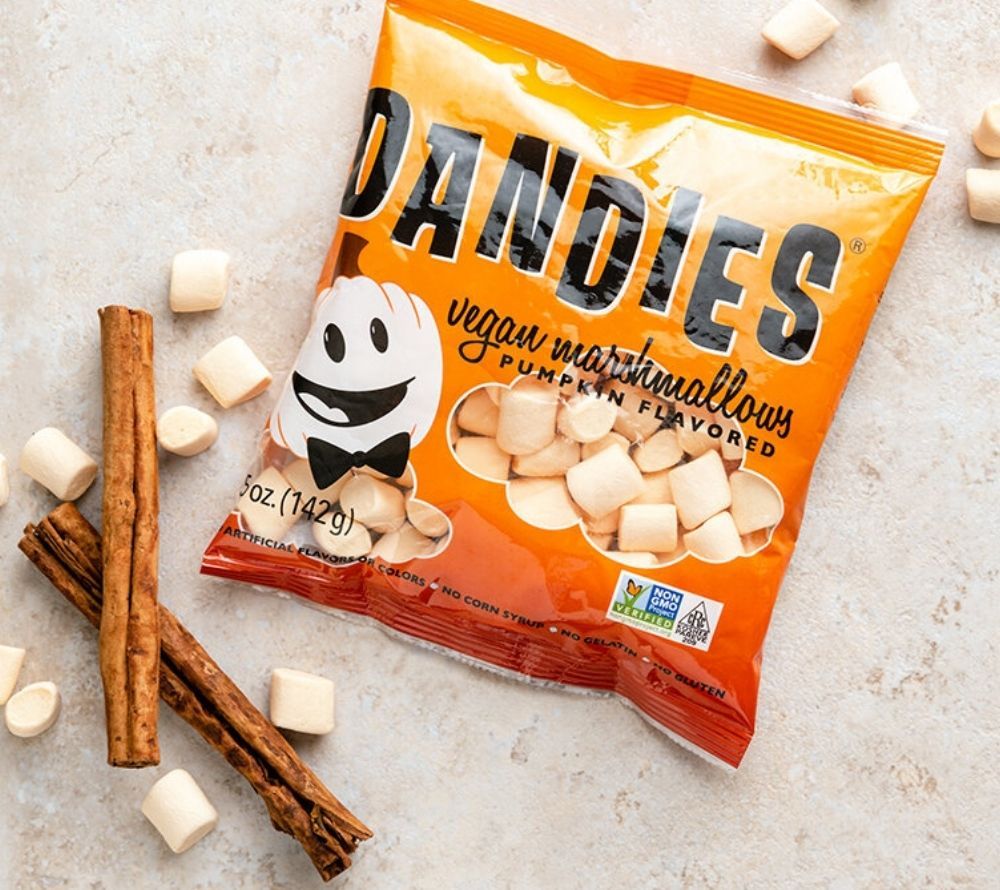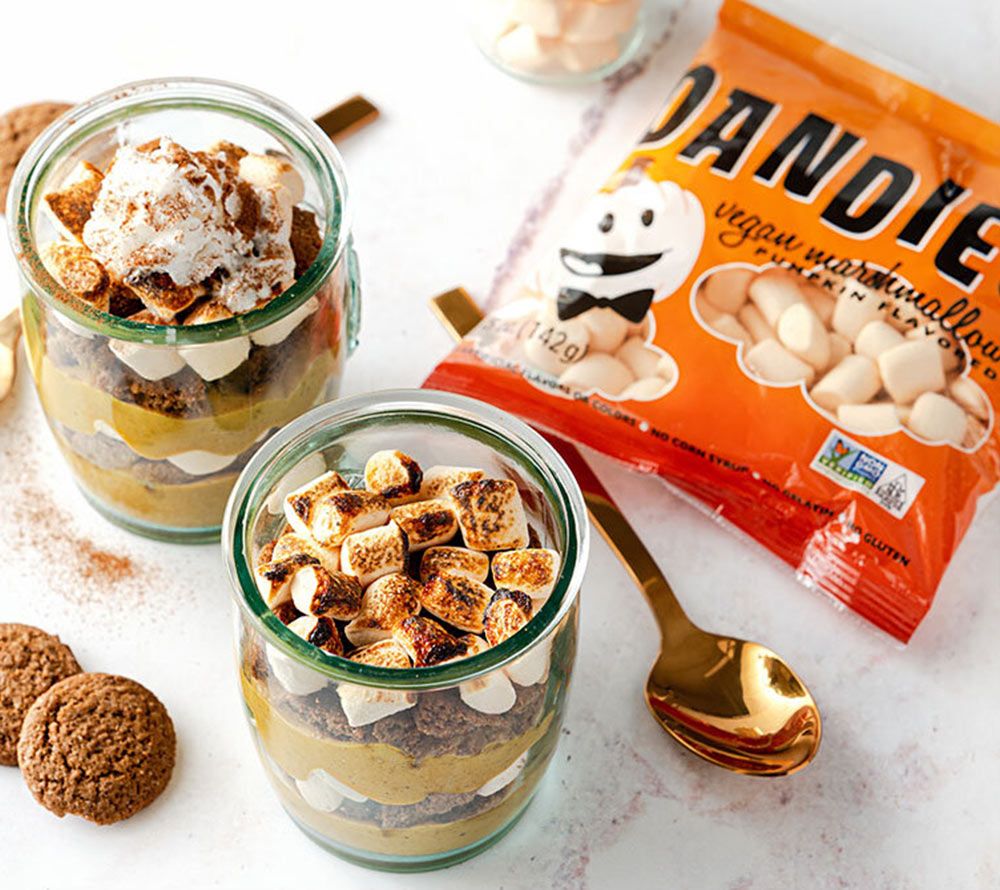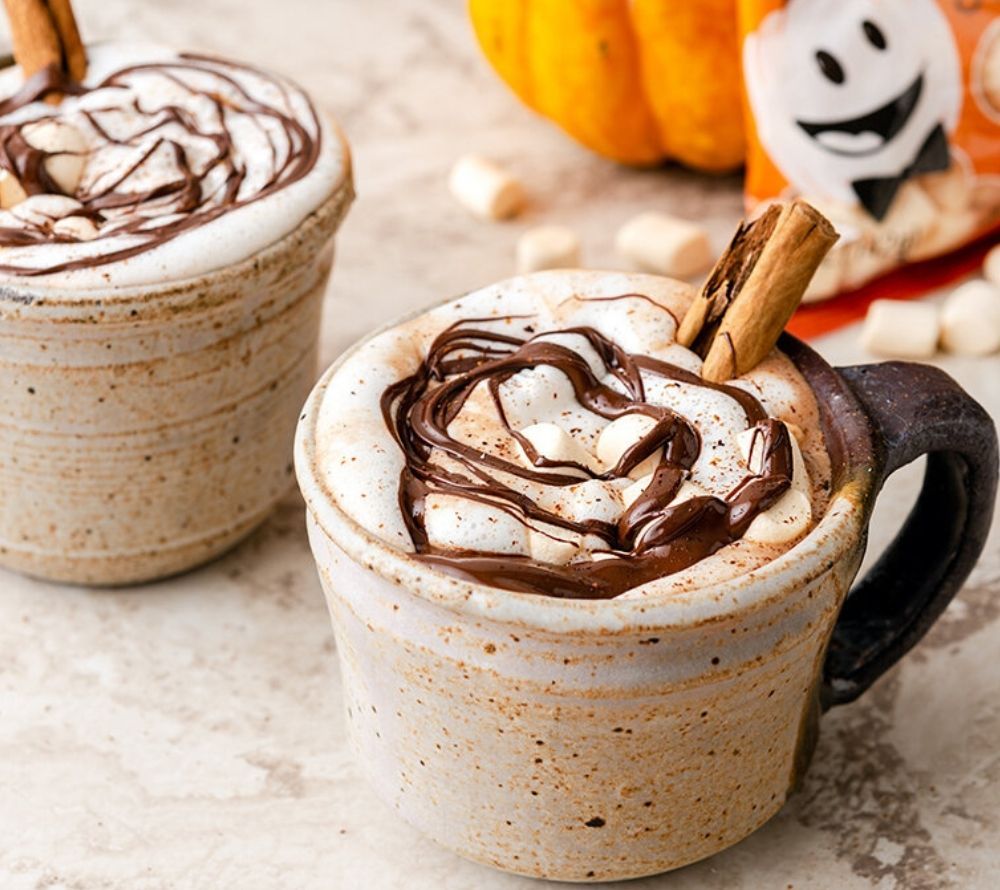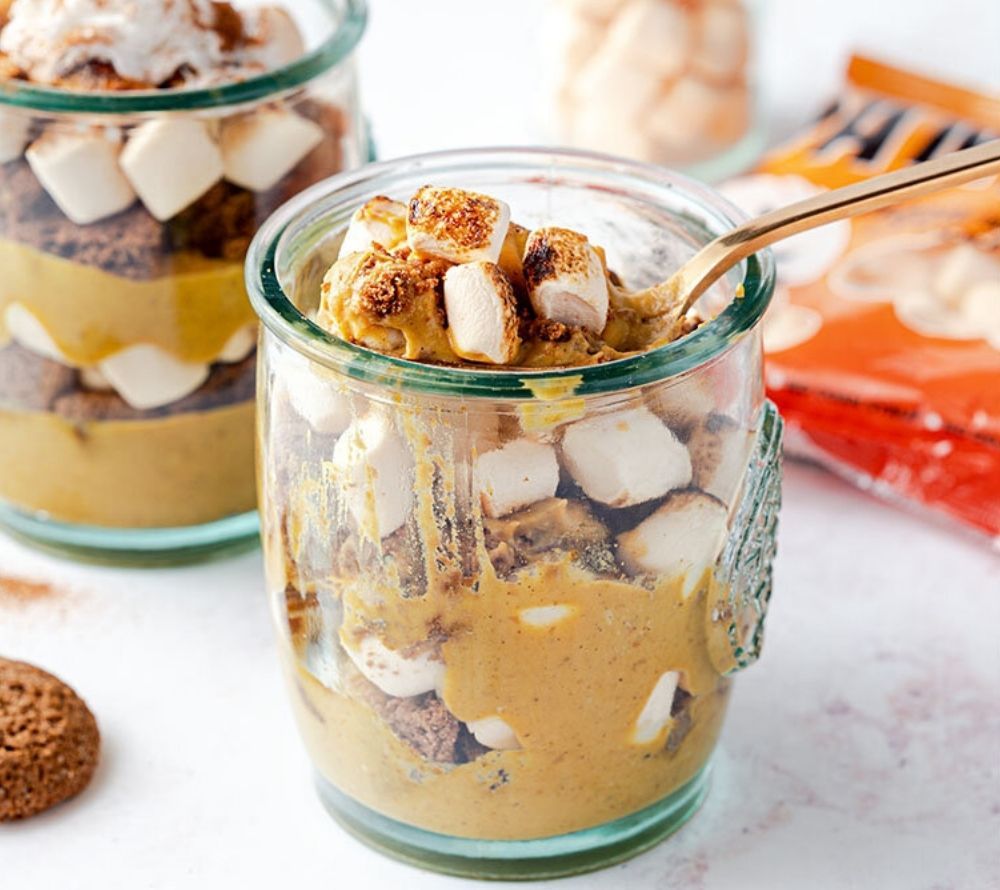 Your opinion is important to us
Your feedback not only helps us to offer you exactly what you really want and to recognize what new and exciting things you expect from us in the future. You also help other vegans quickly and easily find out which products might also be interesting for them.

Note: Companies are obliged to provide information about whether and how they ensure that reviews are genuine. To ensure this, we need your order number when submitting a review (you will find this in the confirmation email). Before your review is published, we check whether the product to be reviewed was also part of your order. This means that your review must first be verified and activated before it becomes visible to other customers.
Subscribe to our newsletter now and get a €5.00 voucher 💌
Sign up now for our madevegan newsletter ! As a small thank you , we will give you a voucher* worth €5.00 , which you can redeem directly with your next order.
To the newsletter ✉
Answer questions
How much are the shipping costs?

The shipping costs (DE) at madevegan are €4.75. From an order value of €39.00 we will ship your order free of charge within Germany.
How long does the delivery take?

The delivery time within Germany is 1-3 days. We do our best to ship your order as quickly as possible.
Do I need a customer account to be able to order?

In our vegan online shop you can also place your order without a customer account - as a guest. With a customer account you have many advantages and save a lot of time on your next order.
Are all products in the shop really 100% vegan?

Yes! All products you find at madevegan are 100% vegan! We check all products very carefully and with a lot of love. In addition, only vegan products that have convinced us make it into our shop!
My question is not there - what can I do?

Our friendly customer care team will be happy to help you and answer your questions. Simply send us an email with your question or concern using our contact form .