Stonewall Kitchen
Napa Valley Avocado Oil from Stonewall Kitchen
Regular price
Sale price
14,95 €
Unit price
39,87 €
per
l
Sale
Sold out
Are you looking for a real superfood ? Then watch out! Because the delicious avocado oil from Stonewall Kitchen from the USA provides you with important vitamins and valuable nutrients .
Cold-pressed avocado oil with valuable nutrients
Avocado oil is made from ripe Mexican avocados. Thanks to the gentle cold pressing, the valuable ingredients in the oil are largely preserved. This means your body can benefit from the important vitamins (A, D, E and K) contained in avocado oil. Nutrients and minerals such as magnesium and potassium are also retained through the process. In addition, cold-pressed avocado oil contains between 70% and 80% unsaturated omega-9 fats , which can support your heart and circulatory system. The oil can also keep your cholesterol levels balanced. An anti-inflammatory effect and support in absorbing important antioxidants such as beta-carotene and lutein make avocado oil a real superfood .
Avocado oil in vegan cuisine
You can easily use avocado oil for dressings and salads or as a topping. The high-quality oil impresses with its slightly buttery note , which gives your favorite dishes an intense taste - without distorting the aroma.
In your In vegan cuisine you can use avocado oil as a perfect substitute for butter. The avocado oil is also ideal for breading - this is how you get it, for example completely without eggs out of. Thanks to the extremely high smoke point of avocado oil, it is also ideal for frying or cooking. While the smoke point of cold-pressed sunflower oil is around 105 °C and that of cold-pressed olive oil is a maximum of 175 °C, avocado oil impresses with a smoke point of around 260 °C.
Our madevegan insider tip: Brush fresh oven-baked vegetables with a little avocado oil before they go into the oven to roast - a poem!
Cold-pressed avocado oil in cosmetics
In our opinion, avocado oil has become an indispensable part of the kitchen. But avocado oil is also a real insider tip in cosmetics . Avocado oil moisturizes your skin and supplies it with important nutrients . This makes it velvety-soft, supple and looks significantly younger . As mentioned at the beginning, avocado oil has an anti-inflammatory effect. This can prevent the formation of annoying pimples. And as if that wasn't enough: the avocado oil is absorbed particularly quickly and doesn't leave an unpleasant layer of grease on your skin.
But your hair can also benefit from avocado oil . Because like your skin, your hair also needs moisture . In addition, the vitamin D contained in the oil prevents hair loss and vitamin E prevents split ends.
But also that hair can benefit from avocado oil. Similar to the skin, the hair is also affected humidity provided. The one contained in avocado oil Vitamin D can counteract hair loss during Vitamin E Split ends prevented.
As you can see, there are a lot of reasons to try Stonewall Kitchen's high-quality avocado oil !
Nutritional values

Nutrition Information (per 100 g)

| | |
| --- | --- |
| Energy | 3700 kJ / 900 kcal |
| Fat | 100 g |
| of which Saturates | 18 g |
| Carbohydrates | 0 g |
| of which Sugars | 0 g |
| Protein | 0 g |
| Salt | 0 g |
More information

| | |
| --- | --- |
| Food Business | American Heritage GmbH & Co. KG, Martini Park, Gebäude C4, Provinostr. 52, D 86153 Augsburg |
| Inhalt | 375 Milliliter |
| Barcode | 786969010372 |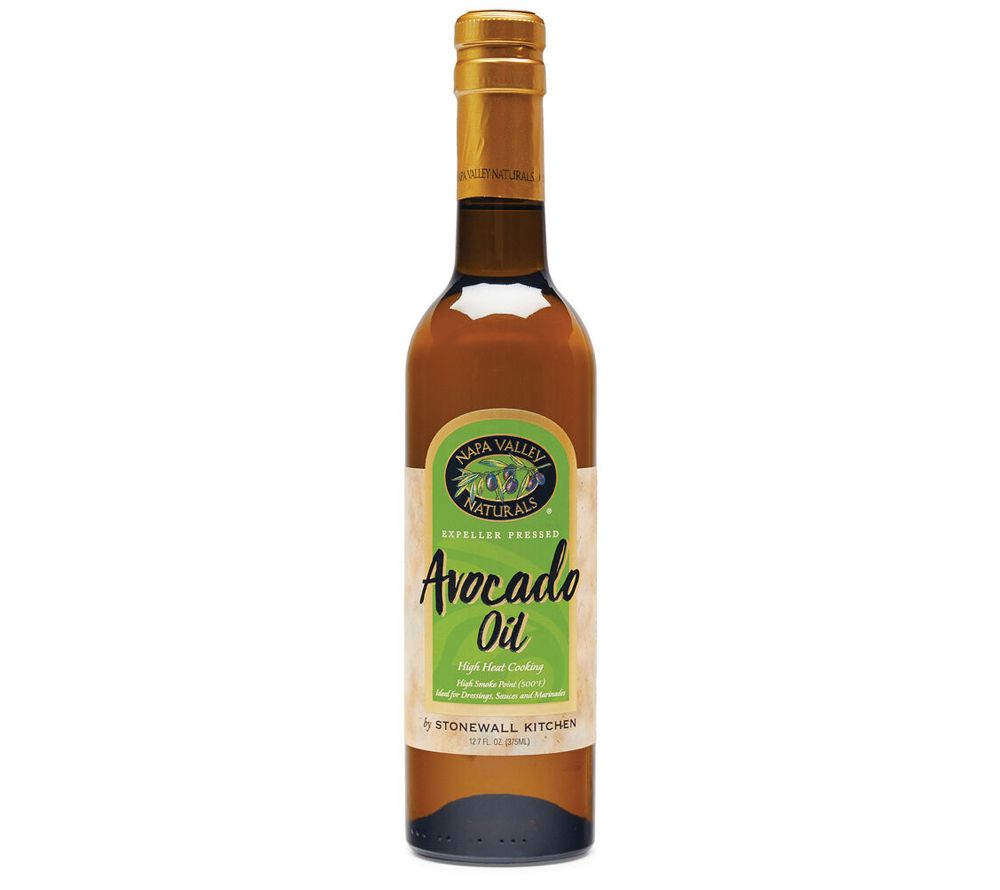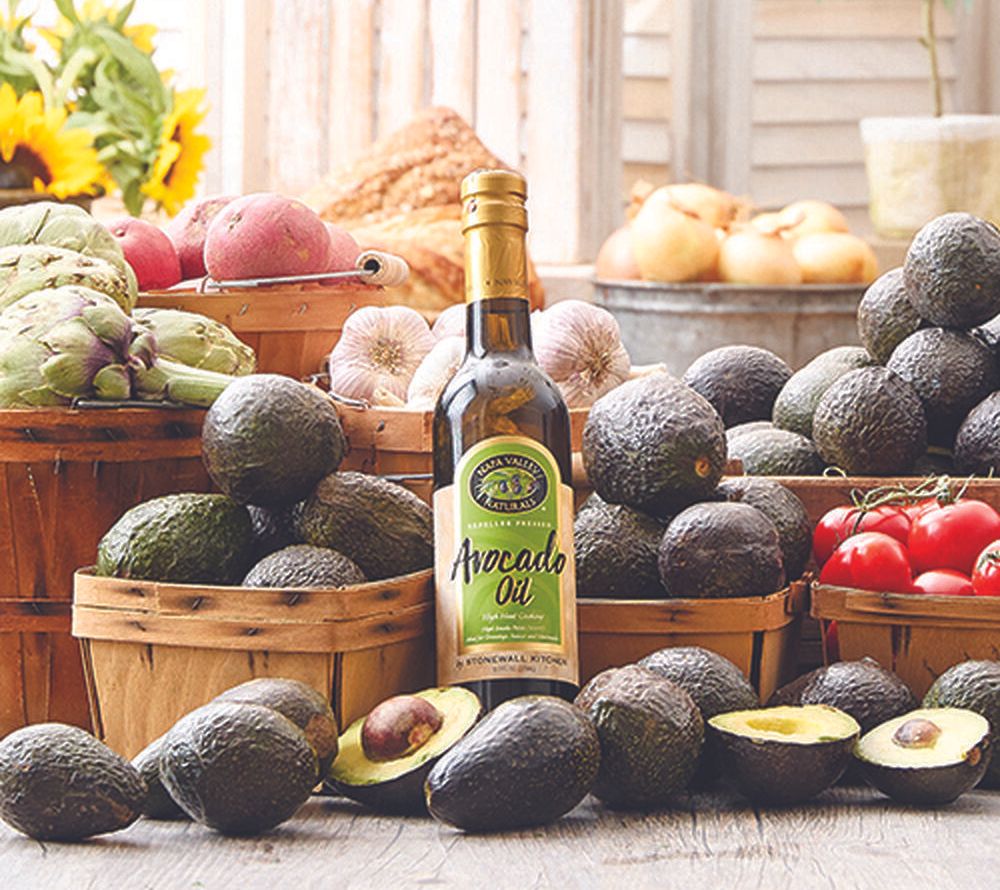 Your opinion is important to us
Your feedback not only helps us to offer you exactly what you really want and to recognize what new and exciting things you expect from us in the future. You also help other vegans quickly and easily find out which products might also be interesting for them.

Note: Companies are obliged to provide information about whether and how they ensure that reviews are genuine. To ensure this, we need your order number when submitting a review (you will find this in the confirmation email). Before your review is published, we check whether the product to be reviewed was also part of your order. This means that your review must first be verified and activated before it becomes visible to other customers.
Subscribe to our newsletter now and get a €5.00 voucher 💌
Sign up now for our madevegan newsletter ! As a small thank you , we will give you a voucher* worth €5.00 , which you can redeem directly with your next order.
To the newsletter ✉
Answer questions
How much are the shipping costs?

The shipping costs (DE) at madevegan are €4.75. From an order value of €39.00 we will ship your order free of charge within Germany.
How long does the delivery take?

The delivery time within Germany is 1-3 days. We do our best to ship your order as quickly as possible.
Do I need a customer account to be able to order?

In our vegan online shop you can also place your order without a customer account - as a guest. With a customer account you have many advantages and save a lot of time on your next order.
Are all products in the shop really 100% vegan?

Yes! All products you find at madevegan are 100% vegan! We check all products very carefully and with a lot of love. In addition, only vegan products that have convinced us make it into our shop!
My question is not there - what can I do?

Our friendly customer care team will be happy to help you and answer your questions. Simply send us an email with your question or concern using our contact form .