Deligreece
Green olives without stone from Deligreece
Regular price
Sale price
4,75 €
Unit price
25,00 €
per
kg
Sale
Sold out
Would you like to have a Greek evening with your loved ones again? Then the green olives without stone from Deligreece are a must. When it comes to Greek olives, quality and enjoyment come first and you can taste that too. The green olives are grown, harvested and marinated in sea brine in Greece by hand . In terms of taste, the green olives without stones impress with their fresh and at the same time complex aroma . We especially love the little delicacies from Greece:
as a side dish to Greek dishes
as a small appetizer
in salad or with vegetables
with pasta dishes & on pizza
on the antipasti plate
for preparing pesto, dips and sauces
for snacking straight from the jar
Where do green olives without stones come from?
The green olives come 100% from Greece - to be more precise from Halkidiki, a Mediterranean region in northern Greece. That's why the green olives without stones are also often referred to as Chalkidiki olives . Compared to other green olives, the Greek Halkidiki olives impress with their particularly distinctive and fresh aroma.
Greece is known for its olive trees spread throughout the country. Due to regional climate differences and different soil conditions, there are now over 60 different types of olives that differ in color, size and taste. Some varieties are widespread and also known in many other countries around the world. Other olives are extremely exclusive and only grow in very specific regions.
How are the green olives made without the stone?
Olives contain many bitter substances that protect them from predators in nature. If you pick the olive directly from the tree and taste it, it is almost inedible . In order for the green olives from Greece to retain their irresistible taste , they must first be de-bittered. For this purpose, the harvested olives are treated - in the conventional process - with caustic soda and then fermented in a salt solution with added lactic acid bacteria. To ensure that the aromas and healthy ingredients are preserved, the green olives without stone that you can find on madevegan are debittered in a natural and gentler process - solely in brine. Although this method is a little more complex and takes much longer , it does not require the addition of bacterial cultures.
Ingredients

Pitted green Halkidiki olives (50%), water, sea salt (1.5%), acidulants (citric acid, lactic acid), antioxidant (ascorbic acid). May contain traces of almonds and milk.
Nutritional values

Durchschnittliche Nährwerte (pro 100 g)

| | |
| --- | --- |
| Brennwert | 566 KJ / 138 kcal |
| Fett | 13 g |
| davon gesättigte Fettsäuren | 1,9 g |
| Kohlenhydrate | 1,6 g |
| davon Zucker | <0,5 g |
| Eiweiß | 1,4 g |
| Salz | 3,3 g |
More information

| | |
| --- | --- |
| Hinweis | Nach dem Öffnen kühl aufbewahren. |
| Lebensmittelunternehmen | Deligreece GmbH, Ostring 6b, D-65205 Wiesbaden |
| Inhalt | 345 Gramm, 190 Gramm Abtropfgewicht |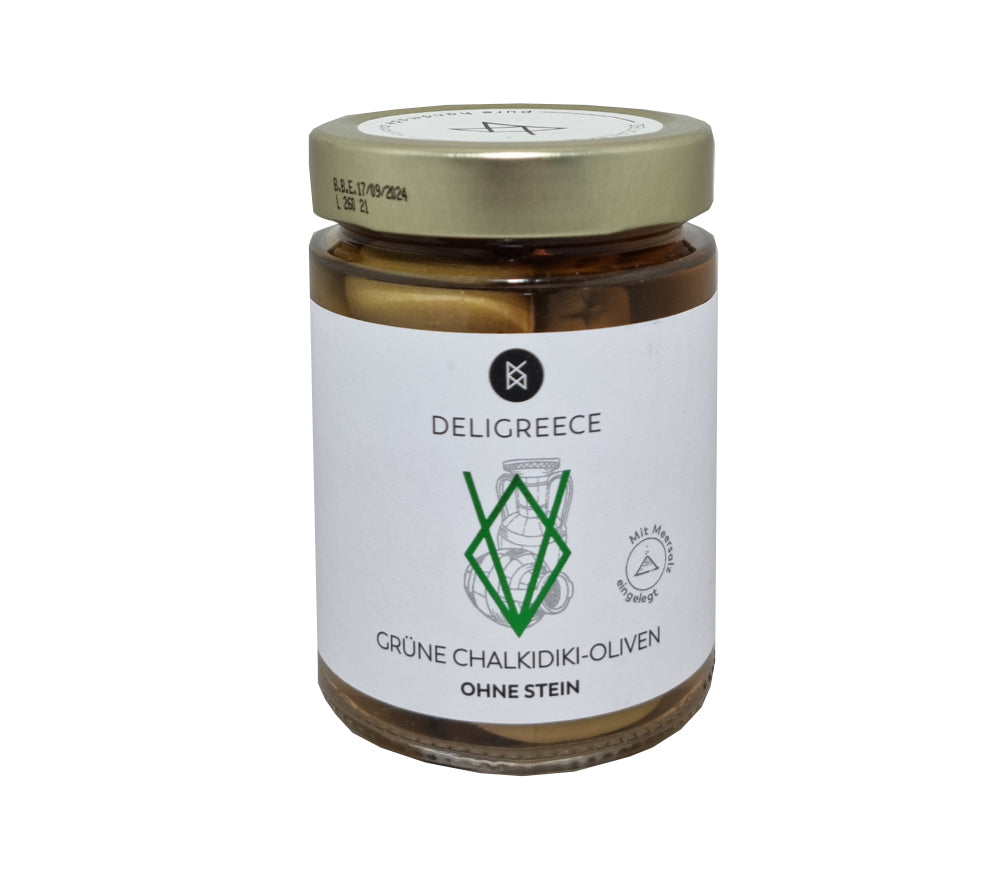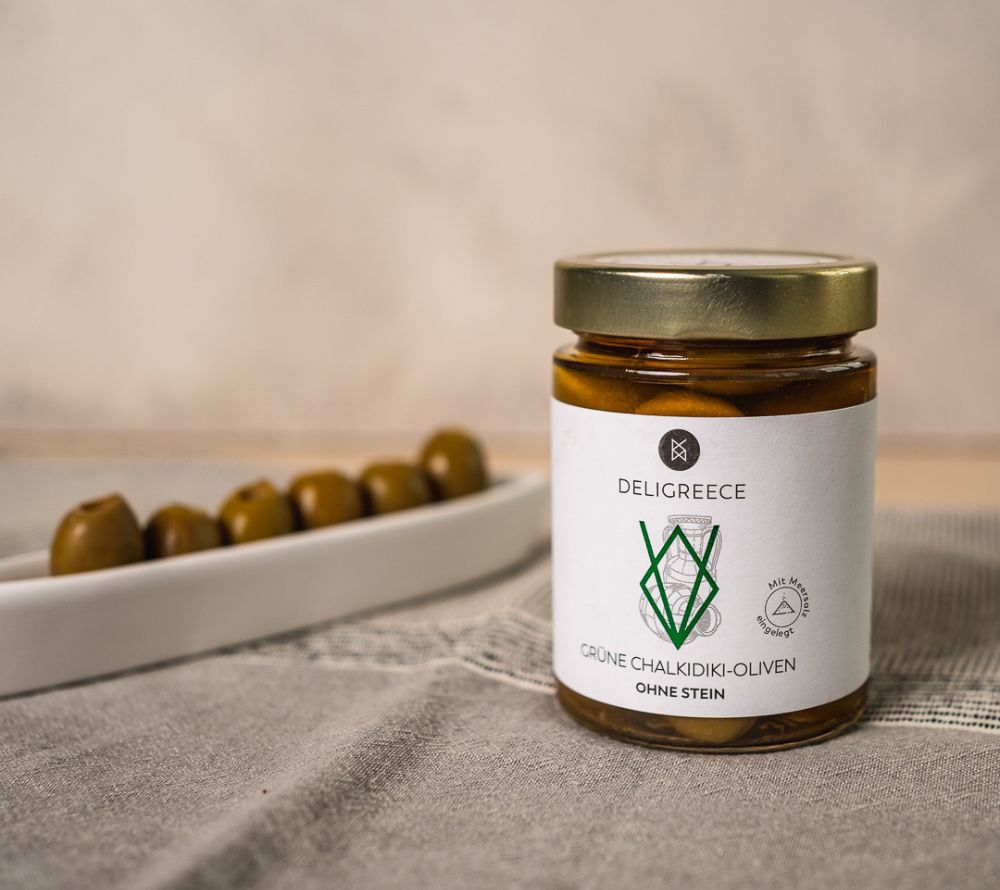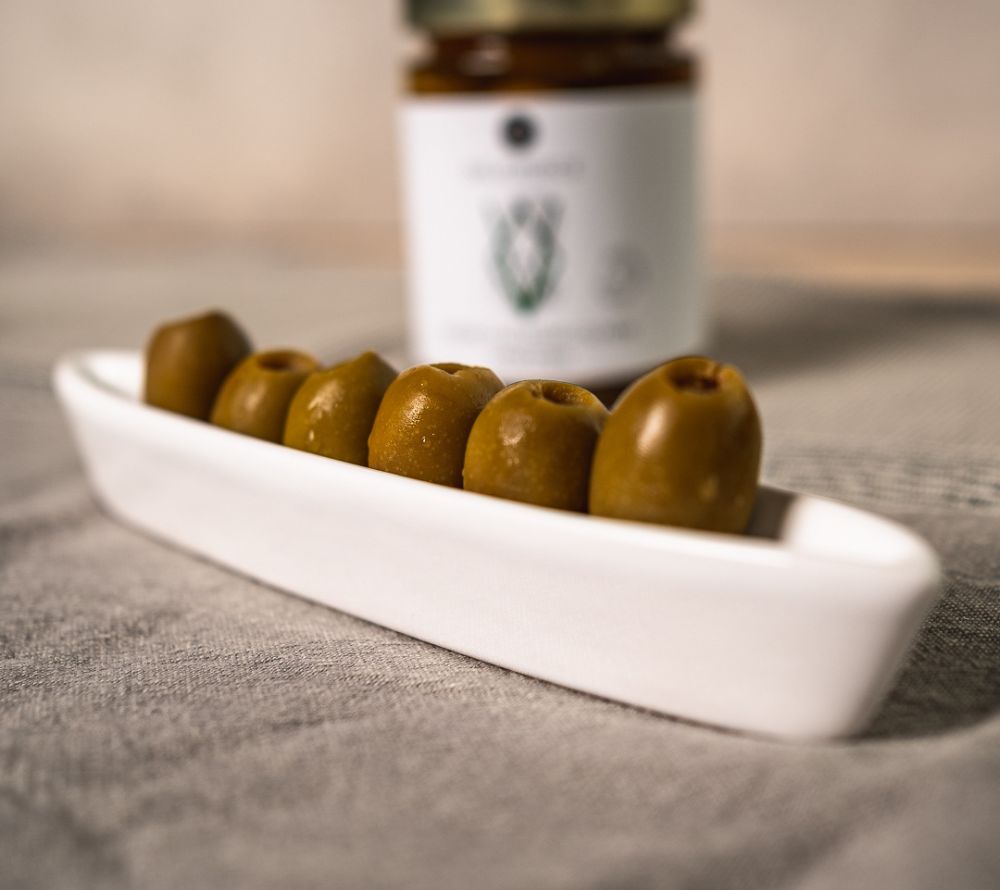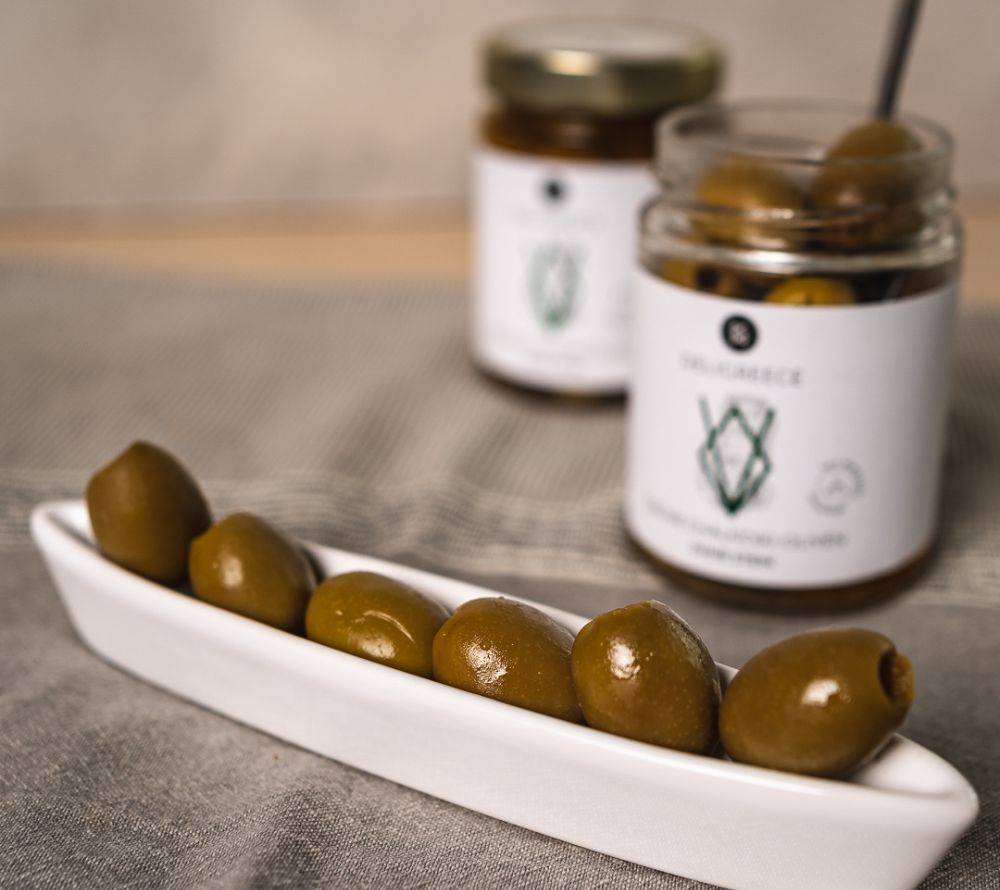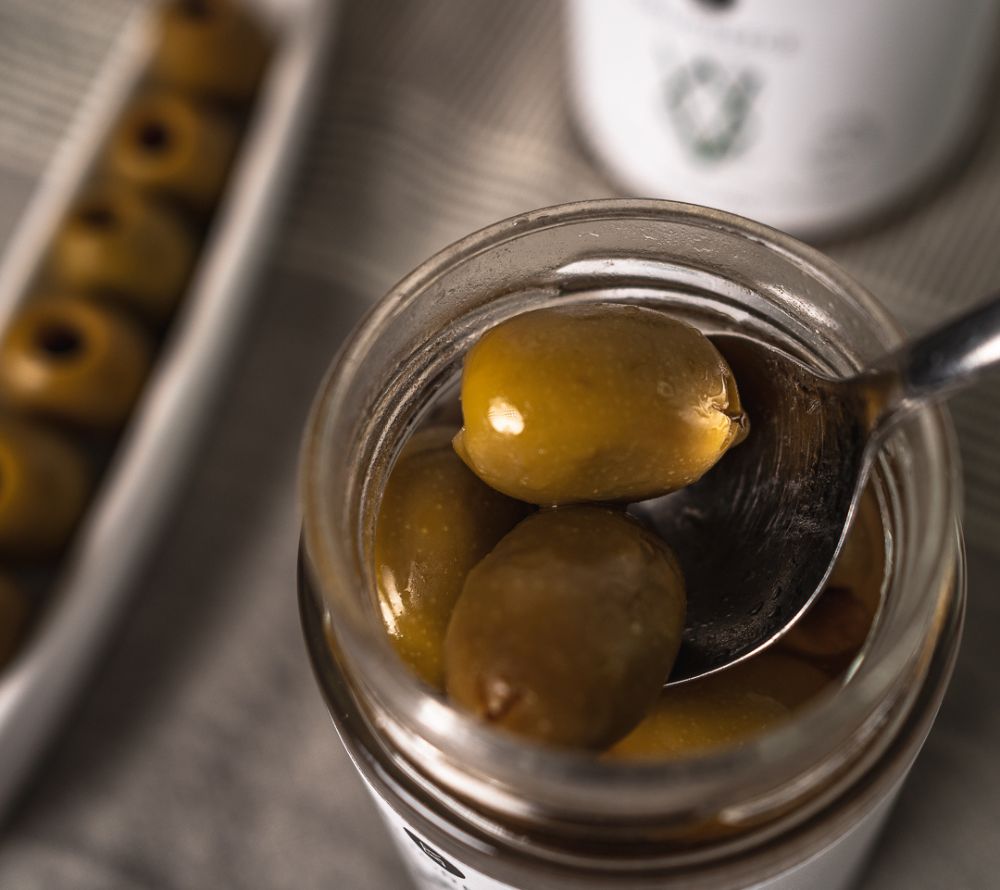 Your opinion is important to us
Your feedback not only helps us to offer you exactly what you really want and to recognize what new and exciting things you expect from us in the future. You also help other vegans quickly and easily find out which products might also be interesting for them.

Note: Companies are obliged to provide information about whether and how they ensure that reviews are genuine. To ensure this, we need your order number when submitting a review (you will find this in the confirmation email). Before your review is published, we check whether the product to be reviewed was also part of your order. This means that your review must first be verified and activated before it becomes visible to other customers.
Subscribe to our newsletter now and get a €5.00 voucher 💌
Sign up now for our madevegan newsletter ! As a small thank you , we will give you a voucher* worth €5.00 , which you can redeem directly with your next order.
To the newsletter ✉
Answer questions
How much are the shipping costs?

The shipping costs (DE) at madevegan are €4.75. From an order value of €39.00 we will ship your order free of charge within Germany.
How long does the delivery take?

The delivery time within Germany is 1-3 days. We do our best to ship your order as quickly as possible.
Do I need a customer account to be able to order?

In our vegan online shop you can also place your order without a customer account - as a guest. With a customer account you have many advantages and save a lot of time on your next order.
Are all products in the shop really 100% vegan?

Yes! All products you find at madevegan are 100% vegan! We check all products very carefully and with a lot of love. In addition, only vegan products that have convinced us make it into our shop!
My question is not there - what can I do?

Our friendly customer care team will be happy to help you and answer your questions. Simply send us an email with your question or concern using our contact form .