Deligreece
Greek giant beans in tomato sauce from Deligreece
Regular price
Sale price
5,50 €
Unit price
18,33 €
per
kg
Sale
Sold out
With the Greek giant beans in tomato sauce you can bring your favorite Greek to your home. The white giant beans (also called elephant beans) from Greece are cooked according to an ancient original recipe in a tomato sauce - consisting of the best and freshest ingredients ( 100% vegan , of course). This gives the Greek giant beans their particularly intense taste . In addition, the white giant beans are completely free of artificial additives. Let the Mediterranean flavors take you on a culinary holiday in Greece on the Mediterranean!
Gigantes Plaki – Greek giant beans in tomato sauce
Hearty dishes made with beans are popular in many cuisines around the world. Gigantes Plaki , i.e. giant beans in tomato sauce, have become an integral part of Greek cuisine. There are different seasoning combinations for the Gigantes Plaki, depending on where you are. The way in which the white giant beans are prepared also varies from region to region. However, the basic recipe is always the same. The Greek giant beans are soaked for about 12 hours (ideally overnight), pre-cooked and then baked in tomato sauce until most of the sauce has been absorbed.
The Greek giant beans in tomato sauce (or Gigantes Plaki) not only taste incredibly delicious and fill you up - no, they are also very healthy . The white giant beans contain valuable proteins , antioxidants and a variety of fiber. The vitamin C , which is found in tomatoes, ensures that the iron contained in the beans is perfectly absorbed by the body.
This is how you can enjoy the Greek giant beans
The Greek giant beans in tomato sauce from Deligreece have already been cooked for over an hour with purely natural ingredients and extra virgin olive oil from Greece (according to a traditional recipe). The Greek delicacy is therefore ready to eat immediately . Unscrew the glass and enjoy! We at madevegan love the Greek giant beans:
as appetizer
as main dish
as a side dish
warm or cold
Our tip: The white giant beans in tomato sauce taste best warm . So simply heat it briefly (without a lid) in the microwave or on the stove in a pot and serve with freshly sliced ​​bread .
Ingredients

Giant beans (65%), water, tomatoes (6%), onions, olive oil, tomato paste, table salt, modified potato starch, spices, celery
Nutritional values

Durchschnittliche Nährwerte (pro 100 g

| | |
| --- | --- |
| Brennwert | 400 kJ / 115 kcal |
| Fett | 4.5 g |
| davon gesättigte Fettsäuren | 1.0 g |
| Kohlenhydrate | 11 g |
| davon Zucker | 1 g |
| Eiweiß | 5.0 g |
| Salz | 1.2 g |
More information

| | |
| --- | --- |
| Hinweis | Kühl und dunkel aufbewahren. Nach dem Öffnen im Kühlschrank aufbewahren und innerhalb von drei Tagen verbrauchen. |
| Lebensmittelunternehmen | Deligreece GmbH, Ostring 6b, D-65205 Wiesbaden |
| Inhalt | 300 Gramm |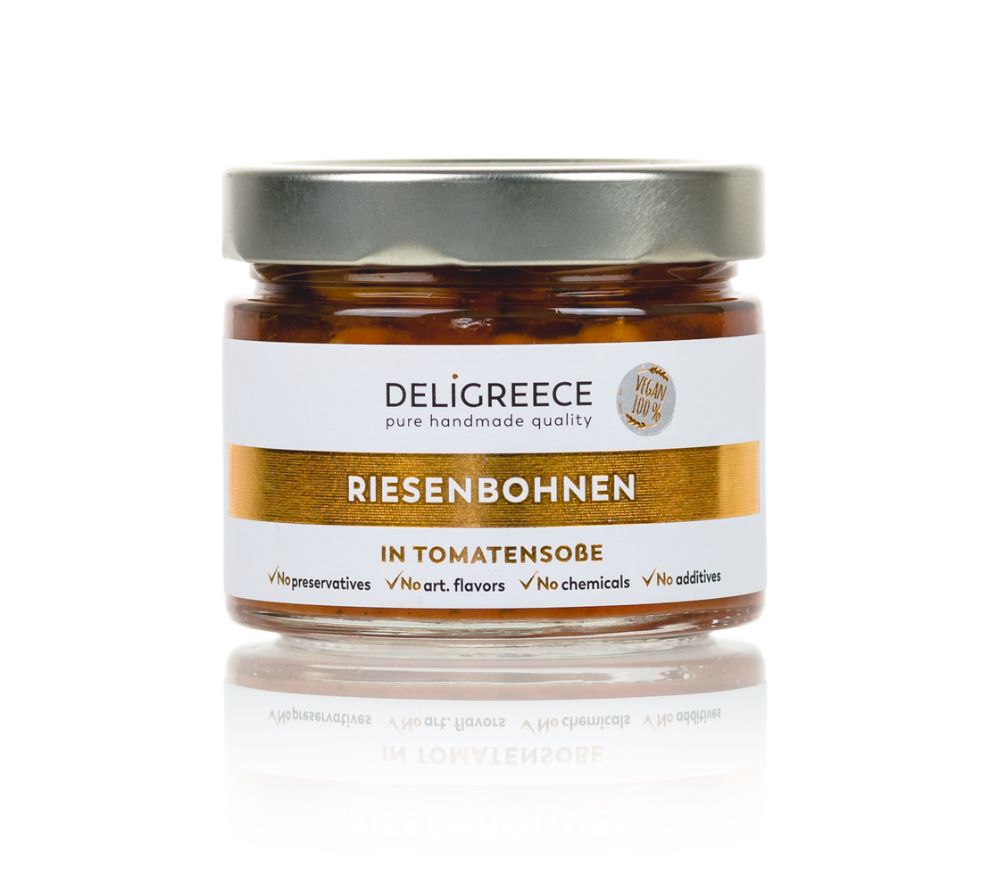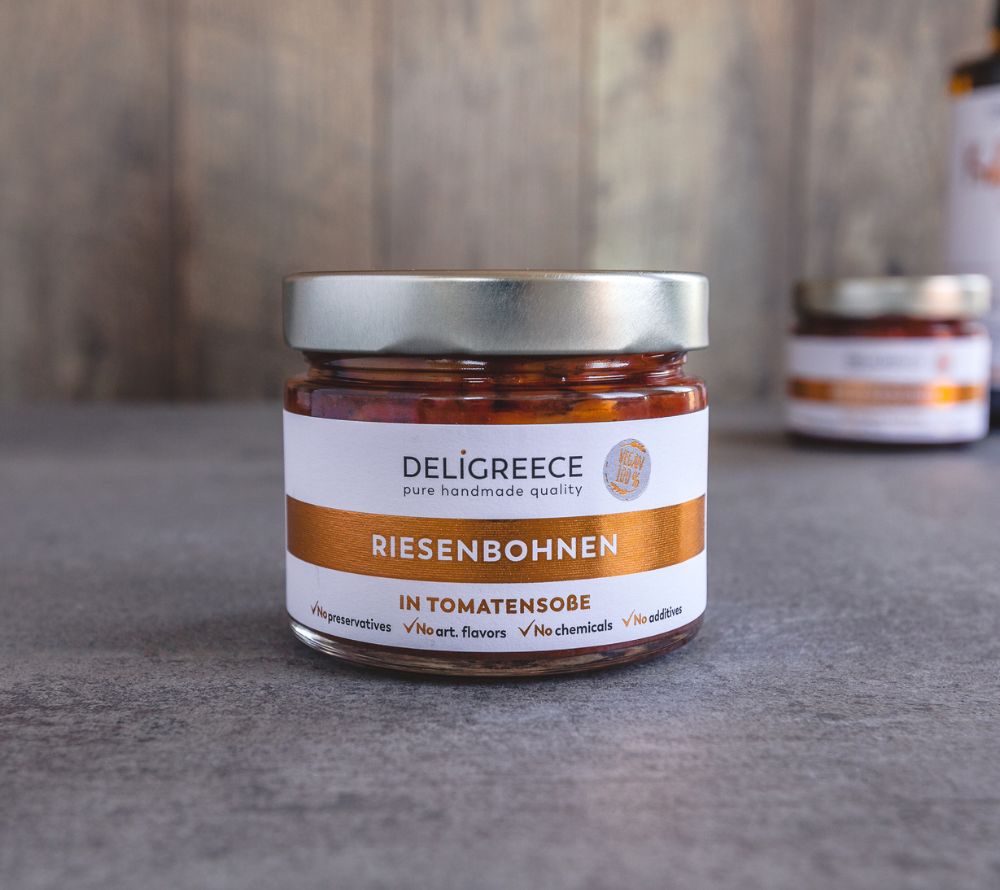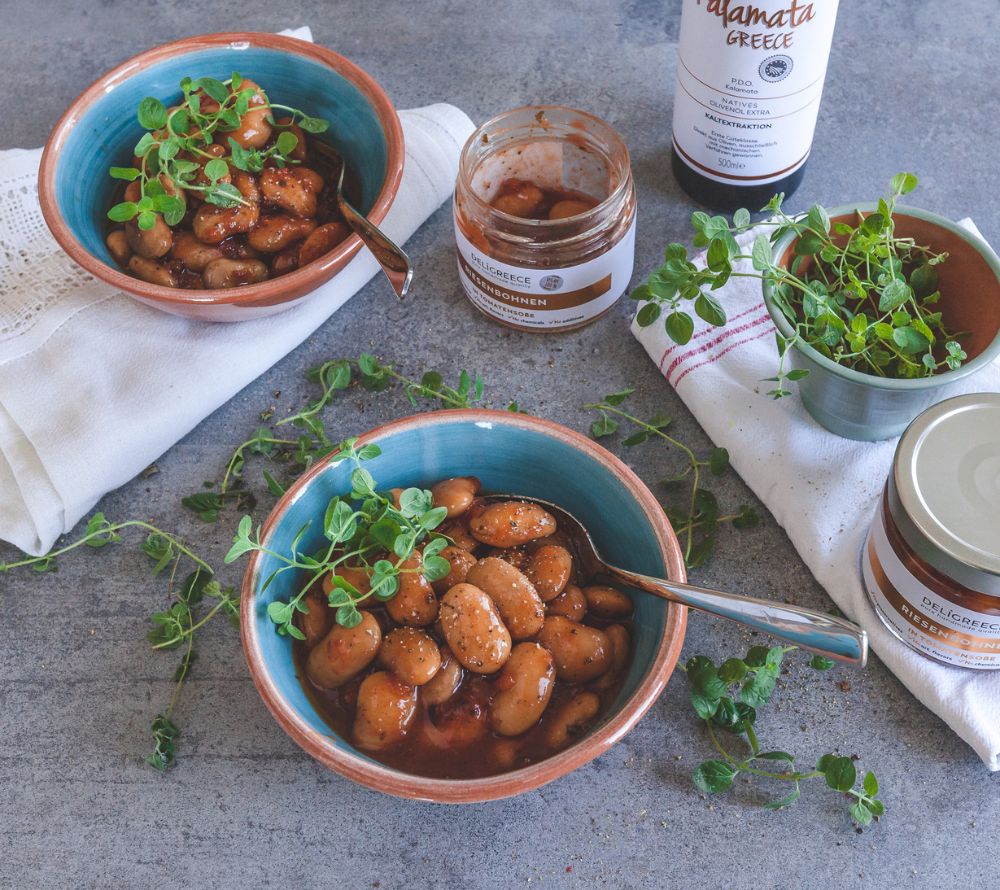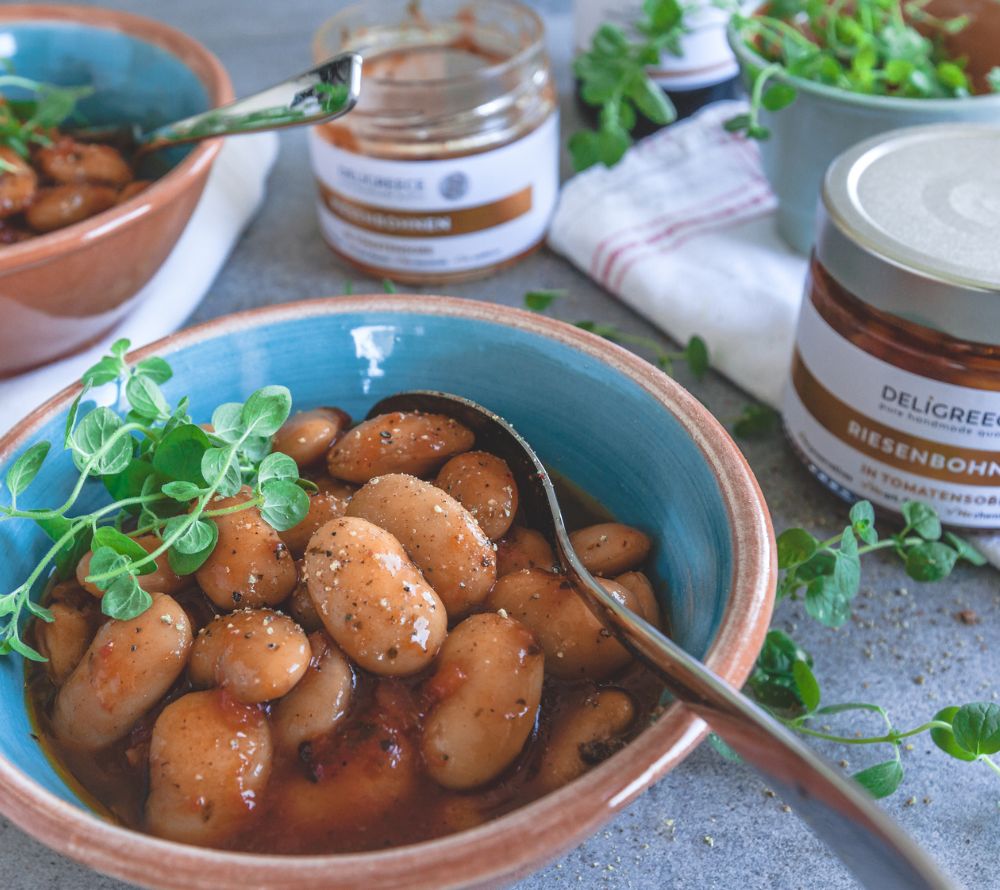 Your opinion is important to us
Your feedback not only helps us to offer you exactly what you really want and to recognize what new and exciting things you expect from us in the future. You also help other vegans quickly and easily find out which products might also be interesting for them.

Note: Companies are obliged to provide information about whether and how they ensure that reviews are genuine. To ensure this, we need your order number when submitting a review (you will find this in the confirmation email). Before your review is published, we check whether the product to be reviewed was also part of your order. This means that your review must first be verified and activated before it becomes visible to other customers.
Subscribe to our newsletter now and get a €5.00 voucher 💌
Sign up now for our madevegan newsletter ! As a small thank you , we will give you a voucher* worth €5.00 , which you can redeem directly with your next order.
To the newsletter ✉
Answer questions
How much are the shipping costs?

The shipping costs (DE) at madevegan are €4.75. From an order value of €39.00 we will ship your order free of charge within Germany.
How long does the delivery take?

The delivery time within Germany is 1-3 days. We do our best to ship your order as quickly as possible.
Do I need a customer account to be able to order?

In our vegan online shop you can also place your order without a customer account - as a guest. With a customer account you have many advantages and save a lot of time on your next order.
Are all products in the shop really 100% vegan?

Yes! All products you find at madevegan are 100% vegan! We check all products very carefully and with a lot of love. In addition, only vegan products that have convinced us make it into our shop!
My question is not there - what can I do?

Our friendly customer care team will be happy to help you and answer your questions. Simply send us an email with your question or concern using our contact form .