Koeze Company
Peanut butter without palm oil Crunchy from Koeze
Regular price
Sale price
11,50 €
Unit price
31,25 €
per
kg
Sale
Sold out
The natural peanut butter without palm oil "Crunchy" is made in the USA by Koeze from just two ingredients : peanuts and sea salt. Since the peanut butter does not contain any additives and consists of purely natural ingredients, it should be stirred before use.
American peanut butter without additives
In the USA , peanut butter belongs on every well-laid breakfast table. There is also a simple reason for this. It is an important component of the legendary PB&J sandwiches there. The abbreviation "PB&J" stands for "Peanut Butter" and "Jelly". The sandwich thus consists of American peanut butter , jelly (or jam) and two slices of toast. The healthy spread is also becoming increasingly popular in Germany. But how healthy is peanut butter from the USA actually?
Peanut butter without additives – how healthy is it really?
How healthy peanut butter actually is can be answered relatively easily by looking at the list of ingredients . As a general rule, you can say that a healthy peanut butter only contains one or two ingredients. Sugar, preservatives and hydrogenated oils should not be included. Natural peanut butter without additives has a very high nutrient content and provides you with lots of proteins, fiber, minerals (magnesium, zinc, potassium) and vitamins. Thanks to the high protein content, peanut butter can even help you build muscle . And healthy peanut butter can also help you lose weight . The fiber it contains will keep you fuller for longer. At the same time, nasty cravings are warded off .
By the way: Because of its high fat content , peanut butter often has a bad reputation - but in reality, peanut butter is not as unhealthy as it is claimed. The majority of the fats it contains consist of unsaturated fatty acids , i.e. healthy fat that can lower blood cholesterol levels and the risk of heart disease . But the same applies here: enjoy in moderation! We recommend two tablespoons of the delicious nut cream per day.
Peanut butter is made without palm oil and sugar
The Koeze Company in the USA is now run by the fourth generation . American peanut butter has been made according to ancient traditions for many decades. In the first step, select Virginia peanuts are carefully roasted. The peanuts are then ground very slowly until the desired consistency ("creamy" or "crunchy") is achieved. In the last step, the peanut butter is given a pinch of sea salt. The natural peanut butter therefore contains no palm oil or sugar . You won't find any other preservatives in the vegan spread. By the way, a sure sign of the purity of the peanut butter is the oil that has settled on the glass surface. Just stir and enjoy!
If you prefer "creamy" (without pieces) rather than "crunchy", then we recommend the natural peanut butter smooth from Koeze .
Nutritional values

Nutrition Information (per 100 g)

| | |
| --- | --- |
| Energy | 2644 kJ / 638 kcal |
| Fat | 50 g |
| of which Saturates | 7,8 g |
| Carbohydrates | 19 g |
| of which Sugars | 3,1 g |
| Protein | 25 g |
| Salt | 0,28 g |
More information

Sales description
Crunchy Peanut Butter
Details
Natural ingredients, mix well before use -Oil seperation is normal
Food Business
American Heritage GmbH & Co. KG, Martini Park, Gebäude C4, Provinostr. 52, D 86153 Augsburg
Contents
368 Gramm
Barcode
071157306956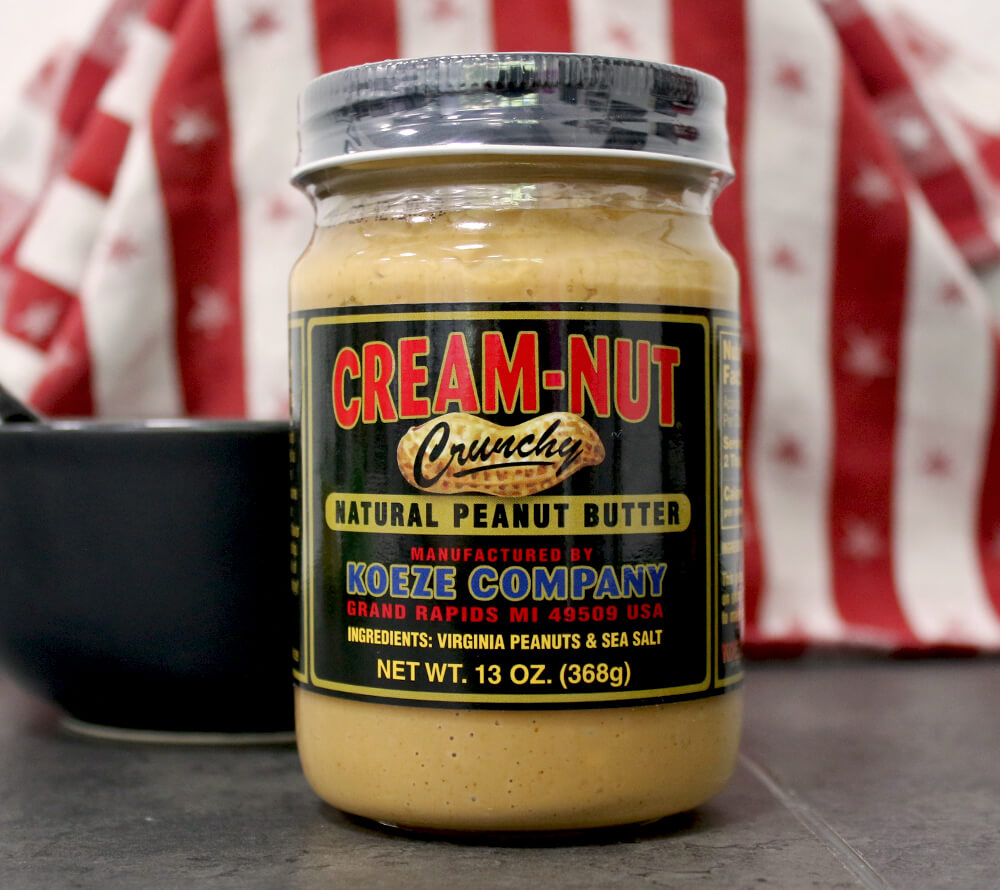 Your opinion is important to us
Your feedback not only helps us to offer you exactly what you really want and to recognize what new and exciting things you expect from us in the future. You also help other vegans quickly and easily find out which products might also be interesting for them.

Note: Companies are obliged to provide information about whether and how they ensure that reviews are genuine. To ensure this, we need your order number when submitting a review (you will find this in the confirmation email). Before your review is published, we check whether the product to be reviewed was also part of your order. This means that your review must first be verified and activated before it becomes visible to other customers.
Subscribe to our newsletter now and get a €5.00 voucher 💌
Sign up now for our madevegan newsletter ! As a small thank you , we will give you a voucher* worth €5.00 , which you can redeem directly with your next order.
To the newsletter ✉
Answer questions
How much are the shipping costs?

The shipping costs (DE) at madevegan are €4.75. From an order value of €39.00 we will ship your order free of charge within Germany.
How long does the delivery take?

The delivery time within Germany is 1-3 days. We do our best to ship your order as quickly as possible.
Do I need a customer account to be able to order?

In our vegan online shop you can also place your order without a customer account - as a guest. With a customer account you have many advantages and save a lot of time on your next order.
Are all products in the shop really 100% vegan?

Yes! All products you find at madevegan are 100% vegan! We check all products very carefully and with a lot of love. In addition, only vegan products that have convinced us make it into our shop!
My question is not there - what can I do?

Our friendly customer care team will be happy to help you and answer your questions. Simply send us an email with your question or concern using our contact form .