Wilderness Poets
Wilderness Poets Dragon Fruit Powder
Regular price
Sale price
19,90 €
Unit price
20,10 €
per
100g
Sale
Sold out
Welcome to the colorful world of pitahaya, also known as dragon fruit ! At madevegan, vegan nutrition is the focus and we are pleased to introduce you to the bright dragon fruit powder from Wilderness Poets . Originally from Costa Rica, dragon fruit is a sustainable desert plant with a unique appearance reminiscent of cactus trees. Their white-leaved cousin is native to Mexico - and together they are a fantastic source of food and medicine .
Dragon fruit powder is like a tropical vacation
Dragon fruit is not only a visual masterpiece , but also a true treasure of nutrients . Their unforgettable bright magenta contains an abundance of antioxidants, fiber, vitamins C and B, which support your body in many ways. No matter whether the sun is shining or it's a cloudy day, with dragon fruit powder you can indulge in a sensual taste experience and let the sun rise within you!
This is how you use dragon fruit powder
Wilderness Poets Dragon Fruit Powder is an excellent way to integrate the fascinating beauty of dragon fruit into your everyday life. Also known as "Strawberry Pear", this powder combines the refreshing and subtle tropical notes of kiwi, strawberry, watermelon and pear into a symphony of flavors.
Use dragon fruit powder to give your dishes a vibrant color and irresistible flavor. Simply add a teaspoon to your smoothies, cereals, raw desserts, yogurts, juices and anything that could use a little more color. Dragon fruit powder is like an artistic brush that makes your creations shine with vibrant colors.
These are the benefits of dragon fruit
But dragon fruit not only offers a visual and gustatory delight , but also a variety of health benefits . It is rich in antioxidants that protect your cells from harmful free radicals. It also provides you with a good portion of vitamin C and vitamin B , which are of great importance for your immune system and your general health.
Only the best for you - 100% vegan
Immerse yourself in the fascinating world of dragon fruit and let yourself be seduced by its magical appearance and delicious taste . Awaken your senses and let dragon fruit become your daily source of exoticism and let the colors of the rainbow shine on your plate!
Nutritional values

Nutrition Information (per 100 g)

| | |
| --- | --- |
| Energy | 1794 kJ / 426 kcal |
| Fat | 6,4 g |
| of which Saturates | 1,6 g |
| Carbohydrates | 77 g |
| of which Sugars | 60 g |
| Protein | 8,0 g |
| Salt | 0 g |
More information

| | |
| --- | --- |
| Food Business | American Heritage GmbH & Co. KG, Martini Park, Gebäude C4, Provinostr. 52, D 86153 Augsburg |
| Inhalt | 99 Gramm |
| Barcode | 855434006438 |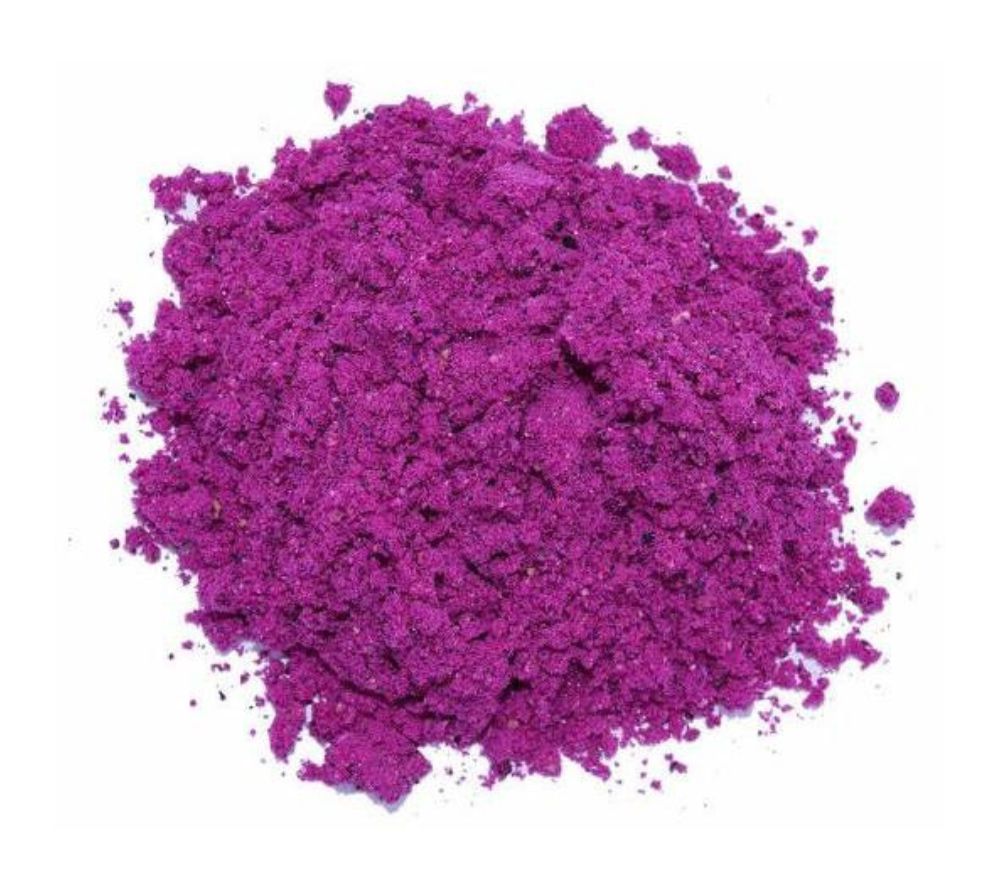 Your opinion is important to us
Your feedback not only helps us to offer you exactly what you really want and to recognize what new and exciting things you expect from us in the future. You also help other vegans quickly and easily find out which products might also be interesting for them.

Note: Companies are obliged to provide information about whether and how they ensure that reviews are genuine. To ensure this, we need your order number when submitting a review (you will find this in the confirmation email). Before your review is published, we check whether the product to be reviewed was also part of your order. This means that your review must first be verified and activated before it becomes visible to other customers.
Subscribe to our newsletter now and get a €5.00 voucher 💌
Sign up now for our madevegan newsletter ! As a small thank you , we will give you a voucher* worth €5.00 , which you can redeem directly with your next order.
To the newsletter ✉
Answer questions
How much are the shipping costs?

The shipping costs (DE) at madevegan are €4.75. From an order value of €39.00 we will ship your order free of charge within Germany.
How long does the delivery take?

The delivery time within Germany is 1-3 days. We do our best to ship your order as quickly as possible.
Do I need a customer account to be able to order?

In our vegan online shop you can also place your order without a customer account - as a guest. With a customer account you have many advantages and save a lot of time on your next order.
Are all products in the shop really 100% vegan?

Yes! All products you find at madevegan are 100% vegan! We check all products very carefully and with a lot of love. In addition, only vegan products that have convinced us make it into our shop!
My question is not there - what can I do?

Our friendly customer care team will be happy to help you and answer your questions. Simply send us an email with your question or concern using our contact form .