Crown Maple
Bourbon Barrel Aged Maple Syrup from Crown Maple
Regular price
Sale price
17,95 €
Unit price
per
Sale
Sold out
Crown Maple maple syrup is produced at Madava Farms, a 300-acre site in the Hudson Valley of New York State. In 2007, Rob Turner, a former banker and founder of Crown Maple, purchased the site for himself and his wife for vacation purposes. It was only after the purchase that he found out about the existence of over 20,000 maple trees on the site and quickly decided to start producing maple syrup. The first batch was produced in 2011 - today Crown Maple maple syrup is considered the highest quality in the world.
Crown Maple produces its maple syrup using the principle of so-called reverse osmosis, a special, patented process in which around 80% of the water is removed from the maple sap and impurities are filtered out. The multiple filtration creates a particularly pure and fine-tasting syrup, with each flavor having its own, characteristic note. In numerous New York star restaurants, Crown Maple's "liquid gold" is used to refine dishes and desserts.
Intense aromas of bourbon, smoky oak, graham cracker, brown butter and creamy vanilla characterize the extraordinary, almost luxurious taste of Crown Maple Bourben Barrel Aged Maple Syrup. Base maple syrup, which matures in former bourbon barrels and absorbs the taste of the bourbon and wood. The syrup is then bottled into its elegant bottle at the state-of-the-art Sugarhouse in Dover Plains, New York.
The Bourbon Barrel Aged goes perfectly
with coffee, black tea and hot chocolate
about fruit, ice cream and cake
for refining vinaigrettes, BBQ sauces, gravies and salsa
for cocktails with bourbon
Ingredients

Pure Maple Syrup, Natural Bourbon Flavor
Nutritional values

Nutrition Information (per 100 ml)

| | |
| --- | --- |
| Energy | 1417 kJ / 333 kcal |
| Fat | 0 g |
| of which Saturates | 0 g |
| Carbohydrates | 83 g |
| of which Sugars | 80 g |
| Protein | 0 g |
| Salt | 0,04 g |
More information

| | |
| --- | --- |
| Hinweis | Nach dem Öffnen kühl aufbewahren |
| Lebensmittelunternehmen | American Heritage GmbH & Co. KG, martini-Park, Gebäude C4, Provinostr. 52, D-86153 Augsburg |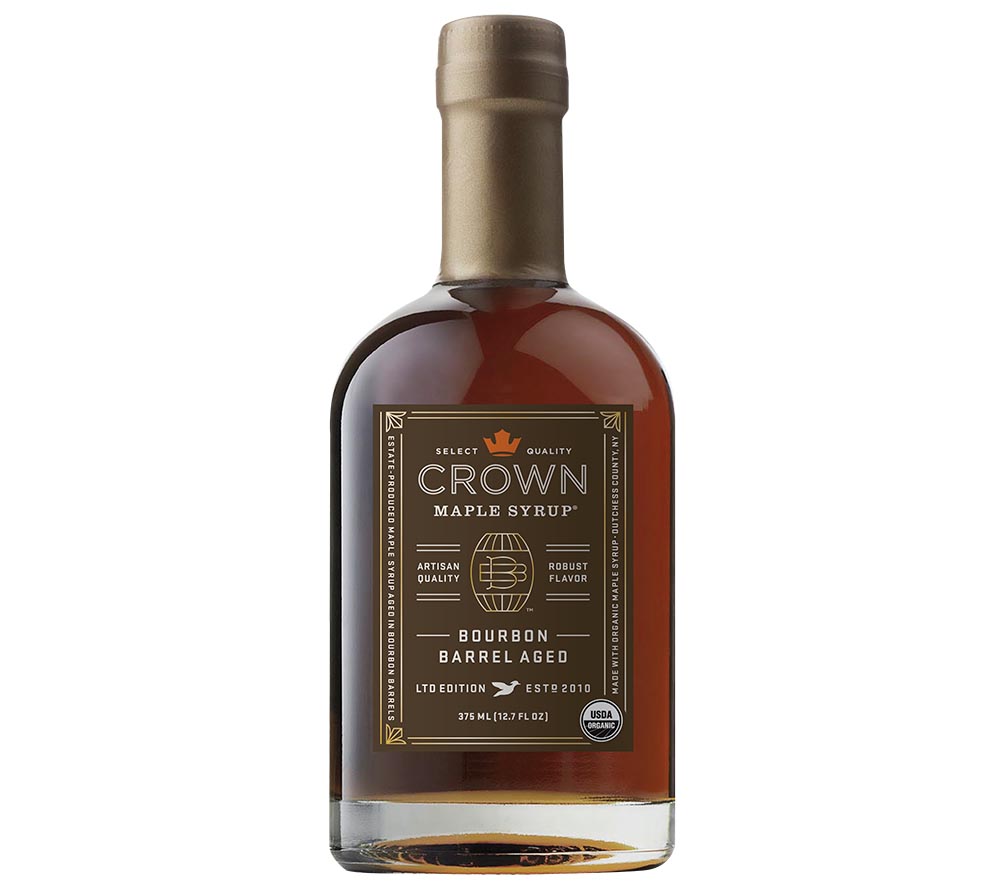 Your opinion is important to us
Your feedback not only helps us to offer you exactly what you really want and to recognize what new and exciting things you expect from us in the future. You also help other vegans quickly and easily find out which products might also be interesting for them.

Note: Companies are obliged to provide information about whether and how they ensure that reviews are genuine. To ensure this, we need your order number when submitting a review (you will find this in the confirmation email). Before your review is published, we check whether the product to be reviewed was also part of your order. This means that your review must first be verified and activated before it becomes visible to other customers.
Subscribe to our newsletter now and get a €5.00 voucher 💌
Sign up now for our madevegan newsletter ! As a small thank you , we will give you a voucher* worth €5.00 , which you can redeem directly with your next order.
To the newsletter ✉
Answer questions
How much are the shipping costs?

The shipping costs (DE) at madevegan are €4.75. From an order value of €39.00 we will ship your order free of charge within Germany.
How long does the delivery take?

The delivery time within Germany is 1-3 days. We do our best to ship your order as quickly as possible.
Do I need a customer account to be able to order?

In our vegan online shop you can also place your order without a customer account - as a guest. With a customer account you have many advantages and save a lot of time on your next order.
Are all products in the shop really 100% vegan?

Yes! All products you find at madevegan are 100% vegan! We check all products very carefully and with a lot of love. In addition, only vegan products that have convinced us make it into our shop!
My question is not there - what can I do?

Our friendly customer care team will be happy to help you and answer your questions. Simply send us an email with your question or concern using our contact form .