Bone Doctors
Premium Spice Blend - universal spice from Bone Doctors
Regular price
Sale price
11,50 €
Unit price
77,18 €
per
kg
Sale
Sold out
Like all Bone Doctors' products, the "Premium Spice Blend" with the distinctive Indian comes from Charlottesville, Virginia. The spice, which tastes like fresh peppers, hot peppers and onions, is particularly delicious for vegetables straight from the grill . The mild spice of the Premium Special Blend is also ideal for French fries and country potatoes. Insider tip: Sprinkle the spice on salty popcorn – delicious!
Bone Doctors' is a typical example of the American dream: two surgeon friends shared the same enthusiasm for cooking and one day decided to produce their own barbecue sauces. Success didn't take long to arrive. After the "Bone Doctors" David M. Heilbronner and Bruce D. Wilhelmsen released their first BBQ sauce ("Bone Doctors' Original"), they produced other spice creations. Each product is unmistakable due to its very own "face": for example, the Indian is the characteristic feature of the Bone Doctors' Premium Spice Blend.
Ingredients

Spices, Sugar, Salt, Garlic, Onion
More information

Sales description
Premium Spice BBQ
Details
Do not cool, keep away from heat and light
Food Business
American Heritage GmbH & Co. KG, Martini Park, Gebäude C4, Provinostr. 52, D 86153 Augsburg
Contents
149 Gramm
Barcode
852139002048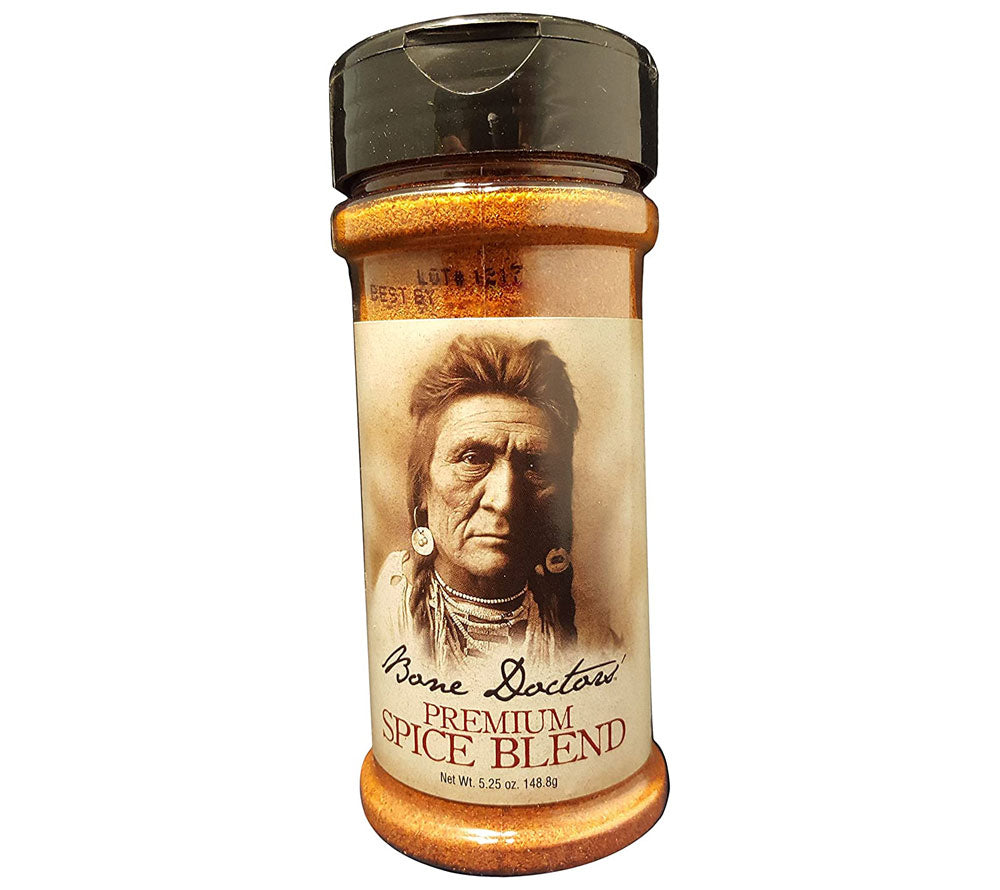 Your opinion is important to us
Your feedback not only helps us to offer you exactly what you really want and to recognize what new and exciting things you expect from us in the future. You also help other vegans quickly and easily find out which products might also be interesting for them.

Note: Companies are obliged to provide information about whether and how they ensure that reviews are genuine. To ensure this, we need your order number when submitting a review (you will find this in the confirmation email). Before your review is published, we check whether the product to be reviewed was also part of your order. This means that your review must first be verified and activated before it becomes visible to other customers.
Subscribe to our newsletter now and get a €5.00 voucher 💌
Sign up now for our madevegan newsletter ! As a small thank you , we will give you a voucher* worth €5.00 , which you can redeem directly with your next order.
To the newsletter ✉
Answer questions
How much are the shipping costs?

The shipping costs (DE) at madevegan are €4.75. From an order value of €39.00 we will ship your order free of charge within Germany.
How long does the delivery take?

The delivery time within Germany is 1-3 days. We do our best to ship your order as quickly as possible.
Do I need a customer account to be able to order?

In our vegan online shop you can also place your order without a customer account - as a guest. With a customer account you have many advantages and save a lot of time on your next order.
Are all products in the shop really 100% vegan?

Yes! All products you find at madevegan are 100% vegan! We check all products very carefully and with a lot of love. In addition, only vegan products that have convinced us make it into our shop!
My question is not there - what can I do?

Our friendly customer care team will be happy to help you and answer your questions. Simply send us an email with your question or concern using our contact form .