Crown Maple
Maple Syrup Amber Color (Grade A) from Crown Maple
Regular price
Sale price
15,95 €
Unit price
per
Sale
Sold out
We love the unique taste of maple syrup - whether for sweetening tea, baking or refining sauces and dressings. The American maple syrup grade A (Amber Color) from Crown Maple cuts an extremely good figure in the kitchen and is indispensable for us!
Maple syrup production - this is how the sweet juice is obtained
In order to obtain the delicious maple syrup, the tree is drilled in one or more places on the trunk during harvest time (depending on age and size). This usually happens between February and April, when the daytime temperature climbs above 0°C for the first time - because that's when the maple sap begins to flow in the tree. The sap supplies the tree with important nutrients that it needs to form new buds. The drilled holes do not harm the tree - the bark regenerates completely within a few weeks .
In order to make delicious maple syrup from the maple sap, it still needs to be cleaned . For this purpose, the maple sap flows through specially installed pipes into so-called sugar huts . Once there it is further processed and cleaned. Crown Maple produces its syrup using the patented reverse osmosis process. With this special production technique, around 80% of the water content is removed from the maple sap, which means that impurities can be filtered out. This makes it probably the purest maple syrup in the world.
Is maple syrup healthy and can you use maple syrup instead of sugar?
We hear the questions quite often about whether maple syrup is healthy or whether it can be used as a sugar substitute . To put it briefly: yes! Maple syrup is a healthy alternative to classic sugar - as long as it is enjoyed in moderation! Compared to sugar, maple syrup causes blood sugar levels to rise more slowly - so diabetics , for example, can use maple syrup to partially replace the sugar. At the same time, maple syrup - similar to honey - has an anti-inflammatory effect . This not only represents a healthy alternative to refined table sugar but is also a vegan substitute for honey.
Maple syrup grades A, B and C
The grade of maple syrup is made up of the color, quality and when the maple sap was harvested . Grade A maple syrup is produced in the first two weeks of the harvest period. Characteristic of grade A is the amber color of the maple syrup and its delicate and mild aroma. Grade B and Grade C maple syrups are significantly darker and have a more intense aroma. The strong taste is particularly characterized by the pronounced caramel note .
You can use maple syrup for this
We love the natural sweetness of maple syrup and like to use it in the kitchen - whether for sweet dishes or hearty dishes . We particularly recommend the vegan maple syrup from Crown Maple if you:
Want to refine sauces and dressings
Make American pancakes
Are you looking for a sugar substitute for cooking and baking?
Want to spice up your muesli in the morning
Would you like to sweeten tea or coffee naturally?
Nutritional values

Nutrition Information (per 100 ml)

| | |
| --- | --- |
| Energy | 1417 kJ / 333 kcal |
| Fat | 0 g |
| of which Saturates | 0 g |
| Carbohydrates | 83 g |
| of which Sugars | 80 g |
| Protein | 0 g |
| Salt | 0,04 g |
More information

Sales description
Ahornsirup
Details
Refrigerate after opening
Food Business
American Heritage GmbH & Co. KG, Martini Park, Gebäude C4, Provinostr. 52, D 86153 Augsburg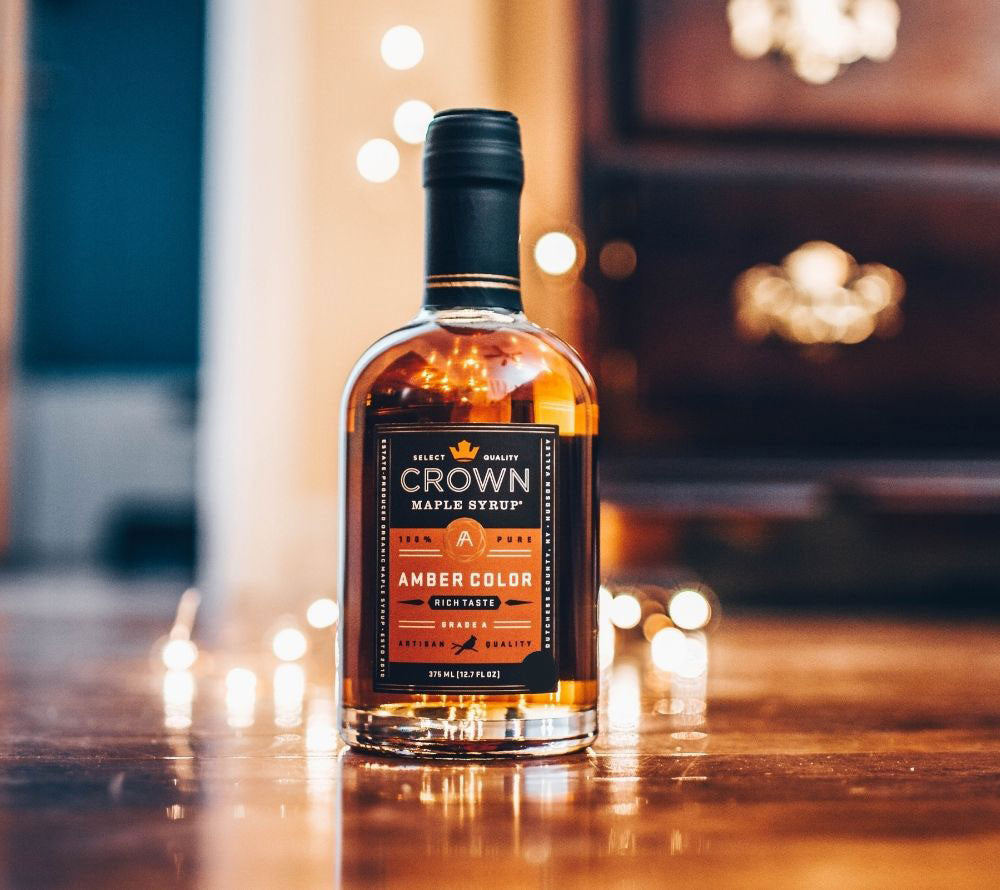 Your opinion is important to us
Your feedback not only helps us to offer you exactly what you really want and to recognize what new and exciting things you expect from us in the future. You also help other vegans quickly and easily find out which products might also be interesting for them.

Note: Companies are obliged to provide information about whether and how they ensure that reviews are genuine. To ensure this, we need your order number when submitting a review (you will find this in the confirmation email). Before your review is published, we check whether the product to be reviewed was also part of your order. This means that your review must first be verified and activated before it becomes visible to other customers.
Subscribe to our newsletter now and get a €5.00 voucher 💌
Sign up now for our madevegan newsletter ! As a small thank you , we will give you a voucher* worth €5.00 , which you can redeem directly with your next order.
To the newsletter ✉
Answer questions
How much are the shipping costs?

The shipping costs (DE) at madevegan are €4.75. From an order value of €39.00 we will ship your order free of charge within Germany.
How long does the delivery take?

The delivery time within Germany is 1-3 days. We do our best to ship your order as quickly as possible.
Do I need a customer account to be able to order?

In our vegan online shop you can also place your order without a customer account - as a guest. With a customer account you have many advantages and save a lot of time on your next order.
Are all products in the shop really 100% vegan?

Yes! All products you find at madevegan are 100% vegan! We check all products very carefully and with a lot of love. In addition, only vegan products that have convinced us make it into our shop!
My question is not there - what can I do?

Our friendly customer care team will be happy to help you and answer your questions. Simply send us an email with your question or concern using our contact form .